PureInsight | August 25, 2019
[PureInsight.org]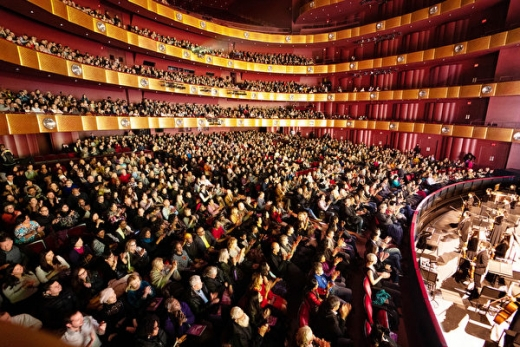 Shen Yun 2019 world tour started with San Francisco on December 12, 2018 and ended with Paris, France on May 12, 2019. The tour lasted for 5 months. 6 companies with whole new, original programs gave almost 670 performances in 150 cities around the world. The scale of the tour is the largest compared to the past.
In America, Shen Yun toured 42 states and Washington D.C. and performed in 90 cities. In New York City, Shen Yun performed in the Lincoln Center 29 times this year; in Washington D.C., south of Maryland, and north of Virginia 19 times; in Philadelphia 25 times. In 14 cities of California, Shen Yun gave 84 performances in total. In 12 cities of Texas, Shen Yun gave 56 performances in total. In 6 cities of Florida, Shen Yun gave 23 performances in total. Shen Yun was popular around the world. Tickets were sold out in almost all places.
Shen Yun presented genuine traditional Chinese cultures to audiences through peace and beauty in different major cities in the US. Some Shen Yun audiences were pleased, shocked, or moved after watching the performance. Many audiences said that Shen Yun was really a must-see world class performance. Some audiences also said that Shen Yun connected audiences to the divine. Some audiences said Shen Yun enlightened audiences and brought them hope and future.
The beauty of Shen Yun brought hope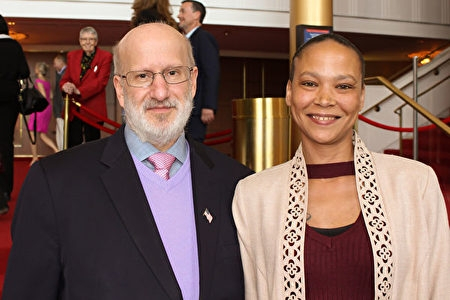 Mr. Dale Delaporte, an official at the U.S. Department of Defense with his cousin Angela watched Shen Yun performance together. Mr. Dale Delaporte thought Shen Yun performance was great, the color was good, and the performance was very exciting. He thought it was very important to preserve culture and spiritual beliefs. He added that for a country, war and social problems from the news are not the only things worthy of our attention. People should know other cultures and how people from other cultures live and preserve their cultures.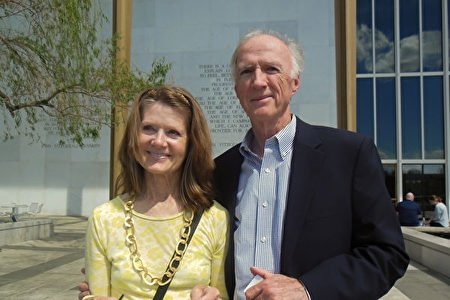 Mr. Dan, who used to work for the Treasury watched Shen Yun with his wife. He said, "(Shen Yun is) beautiful, it's overwhelming" and "(Shen Yun makes me) appreciate life every day, and the beauty of life (is) very good".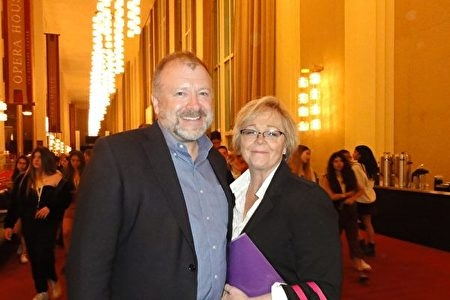 Michael Waller, vice president of government relations at Washington-based think tank Center for Security Policy, is a super fan of Shen Yun. He was deeply touched by the beauty of traditional Chinese dances each time watching Shen Yun. He said, "The precision of the dance was amazing, you won't find it anywhere else".
"The dancers' precision and the grace of the dance, you don't find that in American productions anymore. It is just spectacular, and the discipline that goes into that, and the sheer beauty of it, but it's not sort of an empty beauty of say, a Broadway performance that doesn't have a soul. This has a soul." He added, "There (Shen Yun) you see the beauty of the ancient civilization and the hope for the future of China, all at the same time, and it's really exciting thing to see. It's really inspiring."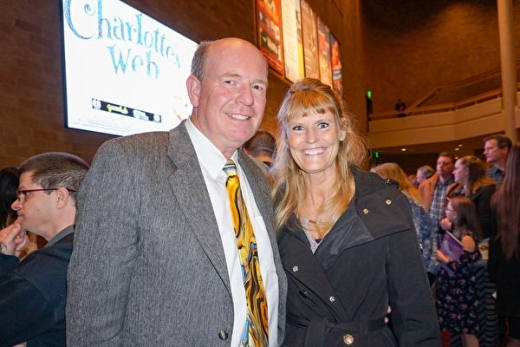 Mike Moyle, a Republican member and the majority leader of the Idaho House of Representative said after watching Shen Yun, "(Shen Yun) was good. It was well worth it. I'd do it again".
His wife Janet Moyle is a commissioner of The Idaho State Tax Commission. She was a member of the Idaho House of Representative. She said, "The dancing was sensational. The performance was beyond what I have even imagined. The dancers are very technical and very precise, which is amazing, and the singers' voices were incredible."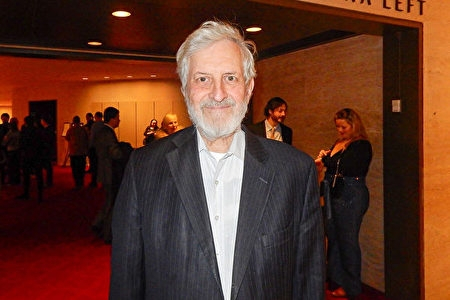 "(Shen Yun) makes me smile and feel happy". Thomas D. Raffaele is a Supreme Court Justice in the 11th Judicial District of New York.  He was deeply attracted by Shen Yun dances. "It's very beautiful the way that they dance, the way they express themselves, and the strengths that they have. It's very amazing to me", he said.
The connection between heaven and humankind in Shen Yun also impressed Mr. Raffaele. He said, "I think that what's beautiful about it is the way that it gives and the energy by making the connections between (the heaven and humankind)".
Shen Yun presents traditional culture and is very precious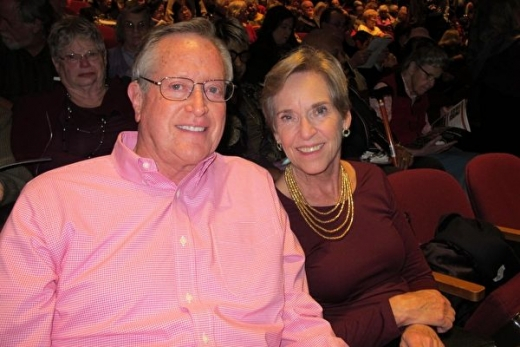 Jerry Rawls, an American billionaire and philanthropist watched Shen Yun together with his wife on December 20, 2018. He thought highly of Shen Yun. "The colors are really, really vibrant and the dancers are so athletic", he said. Mr. Rawls is a famous philanthropist in America. He is also the executive chairman and co-founder of Finisar Corporation.
Shen Yun presents divinely inspired traditional Chinese culture and expresses the idea of having a connection between mankind and divine beings. Mr. Rawls thought Shen Yun incorporated divine elements into its performance really well and it was really interesting to see the spiritual parts of Shen Yun.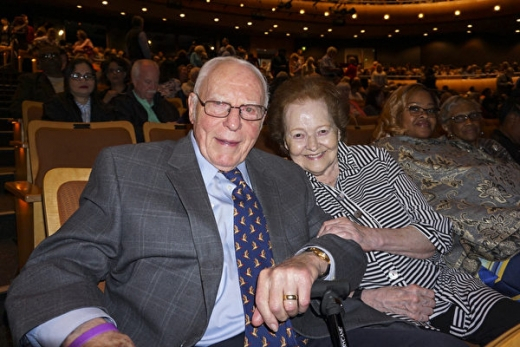 On the afternoon of May 11, 2019, Jack Belz, the chairman and CEO of Belz Enterprises, and his wife Marilyn Belz watched Shen Yun for their fourth time. "Everything about it is superb. The costumes, the beauty of the hands, the motion, the dancers, the tumblers. It's remarkable. We've seen this (Shen Yun) many years", he said.
Mr. Belz said, "We collect Chinese artistry. We have always been very interested in the artistry".  "The performance shows it (the beauty of divine beings dancing) remarkably, because that's what it is all the time", he added.
Belz Enterprises is a major American-based developer of hotel, retail, and commercial properties, including shopping malls and is one of South's largest real estate and development firms.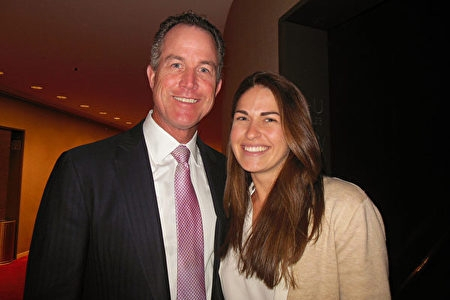 Robert F. Monahan is a wealth management advisor and the senior vice president of Merill Lynch Wealth Management. After watching Shen Yun, he said, "The show is exceptional. It's very well-choreographed, and the music (is good)".  
"The synchronicity between all the dancers (impressed me most), like how they are always together". He regarded watching Shen Yun as a whole new experience for him. "It's good to see some of the culture of China. That's why we came", he added.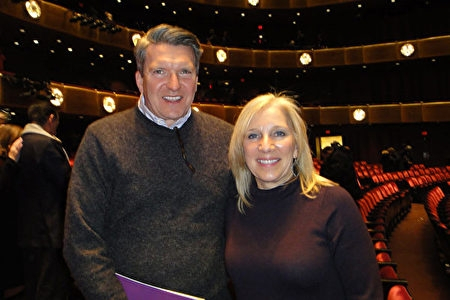 "I think I learned more about the culture, and about the techniques of the dance". Joseph Ronan, a Vice President of AT&T, watched Shen Yun with his wife. They said that the high skills of Shen Yun dancers made them interested in traditional Chinese culture again. Mrs. Ronan said, "We renewed interests in China (through Shen Yun)".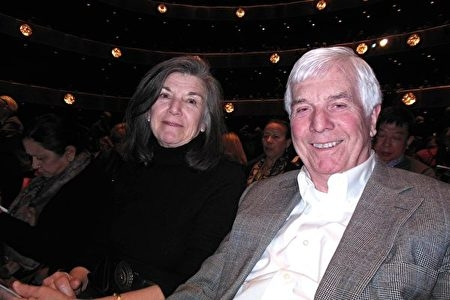 "The color is spectacular. The backgrounds, the dancers' outfits etc. (are spectacular)"
Ed Weiss, the vice chairman at Cushman & Wakefield, a leading global commercial real estate services company, watched Shen Yun with his wife. They thought Shen Yun was spectacular. They really enjoyed watching the performance.
Mr. Weiss also mentioned that it was great for Shen Yun to preserve traditional Chinese culture. He said people should maintain their culture.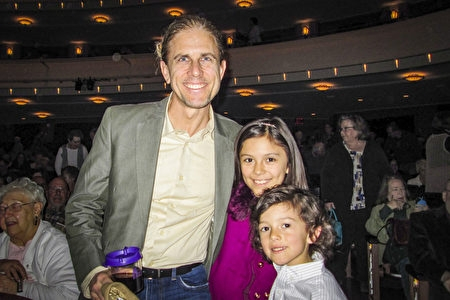 "(Shen Yun dancers') skill and patience. It's fantastic". Hernan Capdevila, the vice president and general manager of Oracle Learning Cloud. Oracle is a global software company.
Mr. Capdevila is originally from Argentina and has a Spanish background. He said, "(Through watching Shen Yun, it is great to contemplate how we got here and why we were here and where we are going. And remind ourselves of how we got here. So anything classical is very important in that sense. Remembering how we got here."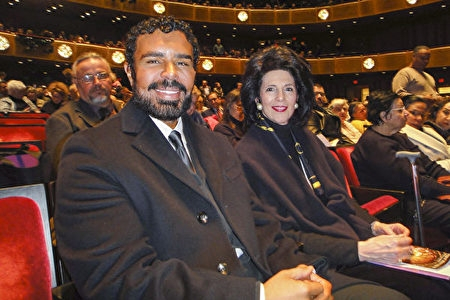 "I enjoyed the show very, very much." Susan James, a top real estate broker working for Trump International Hotel and Tower in New York City and the director of residential sales, said after watching Shen Yun, "It is a reflection of elegance, beauty, sophistication, polish, joy and love. And the creativity is extraordinary."
She thought Shen Yun dancers are superb. She enjoyed the dances very much. She said, "(The dance) It's an emotional, physical and a spiritual presentation."
The art form of Shen Yun is superb; the spiritual component of the performance is touching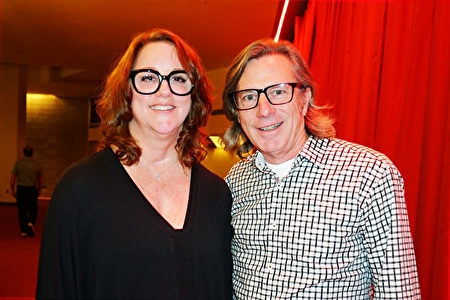 Brian Rawlings, a British songwriter who won a Grammy in 1999. He thought Shen Yun music is very accessible. "I lose the music on purpose with the visual so the visual drives what it is going on and the music is what's happening in here (slapping chest where the heart is). And what you're seeing supports it which it does perfectly, as it (music) should in dance obviously", he added.
Mr. Rawlings thinks it is very important to promote and preserve traditional culture. He hopes Shen Yun can be performed in China one day. He said, "That's important, and like preserving that original culture. What a shame that you have to do that in the United States, in Europe, instead of in China. Maybe the time (Shen Yun perform in China) will come". "Let's hope so (the day Shen Yun can be performed in China) coming soon", he added.
Brain Rawlings won the 42th Grammy Award for his work on Believe. He was nominated for the Grammy Award five times. He was also served on the Grammy Board of Governors. He also worked for Disney as the vice president for seventeen years. His wife Nadia Rawlings was the vice president for several famous film companies in America and was also an author.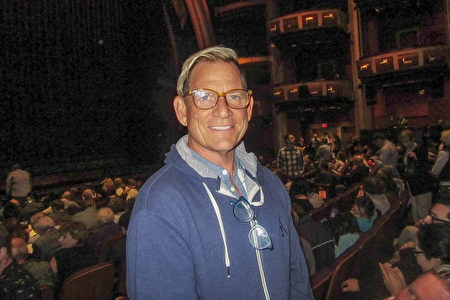 "(The production) it's quite lovely. It's big. It's effectual. I knew it would be". Raymond Thompson, a lighting designer who has won the Emmy award nine times. He thinks highly of Shen Yun's lighting and colors. He said, "I loved the light, and the colors are beautiful. The show is very fun". "I like the (Shen Yun's) lighting. I am very critical about the lighting. So, I enjoyed it very much", he added.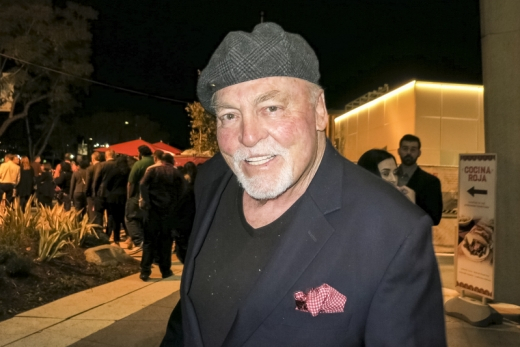 Stacy Keach, a famous American actor and the winner of Golden Globe Award, watched Shen Yun for his first time in the evening of 4/13, 2019. He said that he loved the performance and the combination of different dancing techniques. He said Shen Yun dancers, "Wonderful, very good". He also likes Shen Yun's live orchestra and the animated backdrop. He said, "I especially liked the backdrop and how it integrated with the action and the holograms, beautiful."
Shen Yun presents five thousand years of traditional Chinese culture, Mr. Keach said, "The whole thing was very great. It's a beautiful evening and everybody should see it (Shen Yun)".
Stacy Keach has been playing Ernest Hemingway on television, which earned him nomination of the Golden Globe Award and the Emmy Award. In 2015, Mr. Keach was introduced to the Theatre Hall of Fame. He was selected to the Hollywood Walk of Fame in 2019.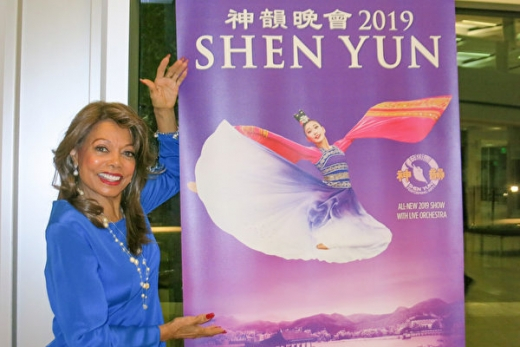 "I have wanted to see this show for the longest time. It is the most amazing thing I think I have ever seen. It's the talent, the costumes, the choreography the staging, everything was just, just amazing, I can't find the words to describe it."
Florence LaRue strongly recommends Shen Yun to everyone, "It was fun to see and not only entertaining but also educational. The music was fabulous, the orchestration, the arrangement it was just wonderful. It really supported the dance, it was great."
Florence LaRue is a famous American singer, Grammy Award winner, and a famous actress. She is a main singer of the famous music vocal group, the Fifth Dimension. She has won the Grammy Award six times and also numerous other awards.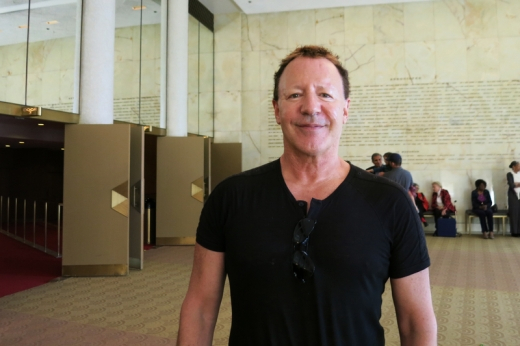 Philip Goldfine, a famous producer, Oscar and Emmy winners, watched Shen Yun with his wife and son in the afternoon of 4/13, 2019. He said, "It was a great show, great effects, great dancing, great music, great singing, great pianist, I mean just all around a great show. Very entertaining."
"Each individual dance story was actually really well told, each one had its own special message, about love, and about people". He was moved by the love dance stories in Shen Yun. "(Shen Yun) Resonates to everybody I think. I think it will resonate to a worldwide audience", he added.
Philip is the founder of Hollywood Media Bridge. He has more than twenty years of experiences in film productions. He produced more than 100 films and TV series. In 2014, he won the 86th Oscar Winning Documentary by The Lady in Number 6: Music Saved My Life.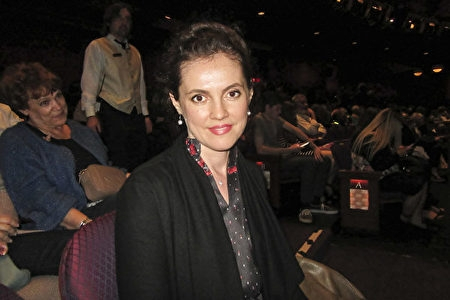 "Wow, it is so amazing, it like a real high-end production, with real music, live performance. It's great". Elena Talan, a famous Hollywood actress, writer and producer, felt the divine elements in traditional Chinese culture. She said, "Well they have a lot of gods and goddesses, right? Like the moon palace and the horses with wings and all of that. So that definitely tells me about the connection to the higher realms and the heavens. And when the girl with the book (Zhuan Falun) was put in prison, when they released her, there was a god figure in the sky. So it's obviously that's very spiritual. When you close your eyes you meditate, you connect to the source (of where people came from)".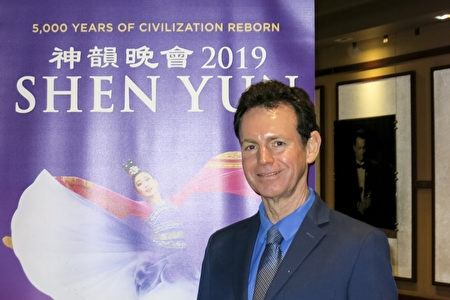 "I was surprised to see a Western orchestra playing Chinese music. So that was an interesting combination". Eric Le Van, a famous pianist who is known for his performances of the music of Brahms and Scriabin, really likes Shen Yun's idea of reviving traditional culture. He said, "I got overall from the show this desire to reach back to the spiritual roots of Chinese culture, going back thousands of years. And I was actually very happy and sense delighted to see that there's that effort by others in exile to revive what was unique to the culture. Because I know a lot of it had been suppressed, that was interesting message". "I think we become better people and we become in touch with that culture (traditional cultures)", he added.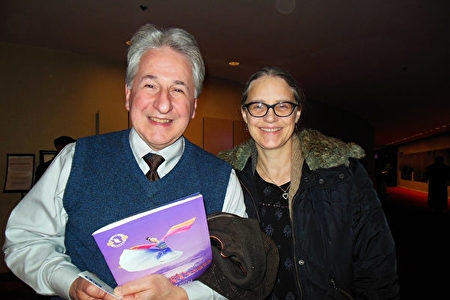 "Beautiful orchestration which means the ideas of the composer were expressed through many different instruments in a very imaginative way". John Cimino, a first prize of the Pavarotti international voice competition and presidents and CEOs for several non-profit organizations, said Shen Yun inspired him a lot. "I will remember this for a long time. And when I compose my own music, and when I do this I will remember this (Shen Yun's) inspiration".
Mr. Cimino has won more than 20 national and international awards as an operatic and concert artist, performing to acclaim throughout Europe and the USA. He has performed on the same stage with some famous singers including Gino Bechi, Anna Moffo, and Pavarotti.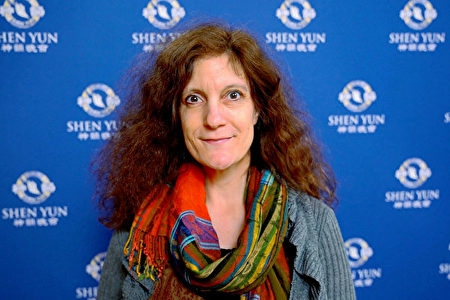 "Is very beautifully done, exquisite, very well done. I thought it was interesting that the languages of, you know, the East and West sort of coming together". Sophie Arbuckle, a music professor at the world top music school, Julia Music School, thinks Shen Yun's music well supports the presentation of Chinese culture. "It's beautifully done, very spectacular and uplifting. But it's (music) its own language. You really get into the language and its own experience (experience Chinese culture through music)".
Ms. Arbuckle is a Viola professor at Juilliard Music School. She is also a famous Viola player. She often performs in North America and Europe.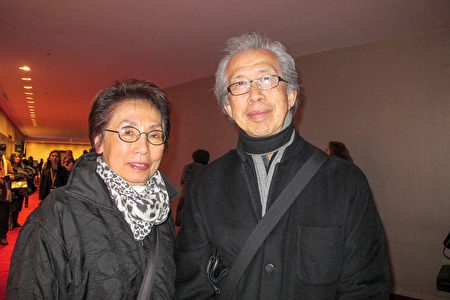 William C. Louie, co-founder of KPF, one of the world largest architecture companies, said after watching Shen Yun, "Very visually stimulating, I think (Shen Yun) it's very beautiful, beautifully done". His parents are immigrants from Guangzhou, China.
He said he really likes Shen Yun's backdrop. Mr. Louie has won international awards in architectural design. He is really curious about the animated backdrop of Shen Yun. "I'm more excited about the visual combination of stage and projection, it's quite interesting". He said he really wanted to know how Shen Yun arts designer created the animated backdrop.
Chinese version: http://www.zhengjian.org/node/251779