PureInsight | November 17, 2016
[PureInsight.org] On September 16, 2016, the University of the West of England held its annual Freshers' Fair. This is the largest scale club-recruiting event in the university. The Falun Gong club founded by Falun Gong practitioner students last year attended for the second year.
The fresh layout of the exhibition table, peaceful music, exercise demonstration, and "Truthfulness-Compassion-Tolerance" attracted college students of all races to inquire.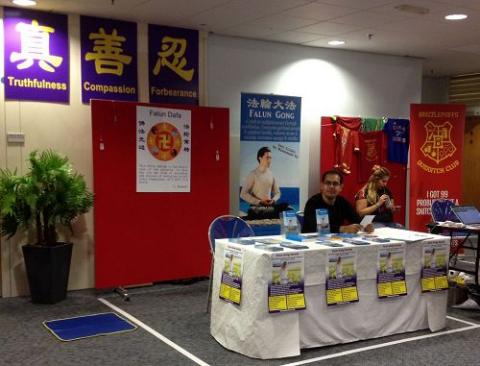 Photo: Nearly 140 people signed up to join the Falun Gong club.
Some professors and employees were also very interested and asked about when and how they could learn the mediation. They learned about the persecution against Falun Gong in China, and supported Falun Gong and the club.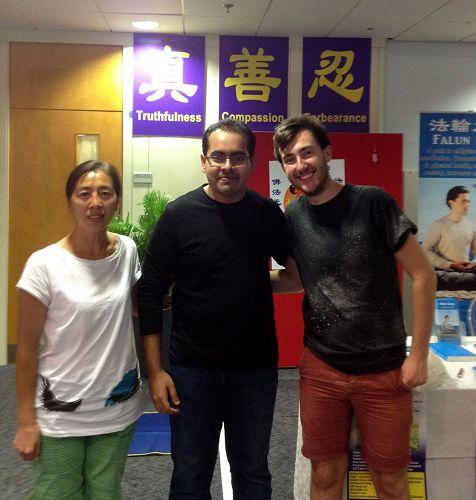 Photo: Student Union Leader (Liam, right) Supports Falun Gong Club
Many Chinese students who saw the Falun Gong exhibition were surprised and took pictures. Some took the initiative to ask about why Falun Gong is being persecuted in China. They all said they only heard negative things about Falun Gong in China.
The difference this year was that many students who knew the truth and told those who did not, that Falun Gong is being persecuted in China because it was very welcomed in China (making the Chinese Communist Party fearful).
Some Asian students who were very interested in the exercises also joined the Falun Gong club.
Falun Gong practitioners in England founded Falun Gong clubs in five colleges hoping that more Chinese and Western people would learn about Falun Gong, learn the exercises, and support Falun Gong.
As more students, professors, and employees reap the benefits of abiding by "Truthfulness-Compassion- Tolerance", the club could hold more activities on campus and let justice end the Chinese Communist Party's 17-year severe persecution against Falun Gong.
Translated from: http://news.zhengjian.org/2016/09/17/33918.html