PureInsight | June 17, 2021
[PureInsight.org]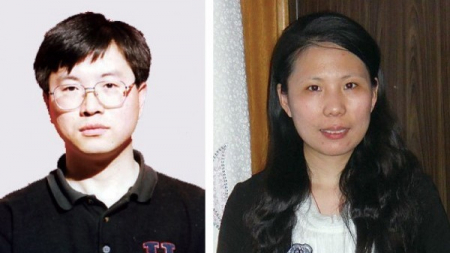 Figure:  Falun Gong practitioner Zhou Xiangyang and his wife Li Shanshan
Households of prison inmates have recently revealed that Zhou Xiangyang, a Falun Gong practitioner from Tianjin, suffered organ failure in illegal imprisonment. He had been sent to prison hospital. His mother felt terribly worried and called on righteous force to help rescue his son.
Zhou Xiangyang has been on a hunger strike to protest the persecution. Due to persecution, he became very bony. In December 2016, he was illegally sentenced to seven-year imprisonment at Tianjin Binhai prison.
Minghui website reported that Zhou Xiangyang's mother expected people upholding their justice can help rescue his son. She said, "My son has been on a hunger strike to resist the imposed persecution for six years."
So far, Zhou's mother hasn't heard from his son for ten months because the prison captain used coronavirus situation as an excuse.
She said, "His inmates recently revealed that he had been sent to Xinsheng hospital. His organs went downhill and he is in a most critical condition."
Shocked by this, Zhou's mother, father and his elder brother drove to Binhai prison. It took a while to call out the prison captain who was holding Zhou Xiangyang.
Zhou's elder brother asked the captain, "How long had Zhou Xiangyang been hospitalized? Why we are not allowed to meet him? Are other inmates like this? Does my younger brother have a right to call his family? Does he have a right to write to us?"
The captain replied, "Why did you raise this question? Xiangyang was unwilling to call his family, but I could not force him to make a call. But he was not allowed to write to his family when hospitalized."
Zhou's mother reckoned that his son was extremely fragile to write a letter. She said, "The captain's prevarication was nothing more than to deceive us."
At that moment, the captain told her that a visit was likely to be arranged in January 2021. When she continued to ask her son's situation, the captain ignored her.
She said, "Regardless of whatever we had said, the prison guards prevented us looking for my son."
Zhou's mother recalled that during the last visit, Xiangyang told her, "Because of my deteriorated health, I was unable to walk upright. In the past, two people took my arms and walked forward. But this time they turned around and pulled me one by one, with my face back and heels on the ground. My heels were torn and I felt terribly painful. I saw two long bloodstains on the road behind."
Zhou's mother currently was deeply worried about his son's condition.
For the sake of Zhou Xiangyang and thousands of Falun Gong practitioners, Zhou's mother has called on the domestic and foreign media, "Show your concerns about these kind people of faith. Zhen-Shan-Ren is universally acceptable. I hope that all capable and righteous force can help my son and other innocent people get released and go back home as soon as practicable. Bring the persecution to an end."
Stop Judicial Officials Being Forcibly Involved in Joint Crimes
On September 13, 2016, the case of Zhou Xiangyang and Li Shanshan appeared in the court. The couple's lawyers made a comprehensive and profound defence for their innocence.
The lawyer's defence statement pointed out that currently there is no law in China stipulating that Falun Gong practiced by Zhou Xiangyang and Li Shanshan is depicted as a cult. Also, there is no legal basis for arbitrary arrest and detention. Article 300 of the "Chinese Criminal Law" (the crime of using a cult to undermine the implementation of the law) does not apply to the defendant in this case. Furthermore, the illegal arrest violates the "Citizens' Freedom of Belief" set by the Chinese Constitution.
The defence statement says that over a decade, hundreds of lawyers and thousands of innocent defences have clarified a fact: the state-sanctioned crackdown on Falun Gong is totally deliberate using the law to outlaw Falun Gong and to persecute practitioners.
So far, we can certainly discern that who obeys the law and who violates the law. The current defence is not only to safeguard the legal recognition of Falun Gong. More importantly, we should stop judicial officials being involved in committing crimes against Falun Gong. When we have justice restored in the near future, the clear-minded judicial officials will not be trialled.
The Tribulations Encountered by Zhou's Family
Zhou Xiangyang graduated from Northern Jiaotong University and was later assigned to the Engineering and Economics Division of the Third Exploration and Design Institute of Tianjin Railway. Because of his outstanding work, he was sent to Tianjin University to study and obtained a degree in investment economics. In 1998, he obtained the qualification of the first batch of cost engineers in China. At that moment, there were only 60 cost engineers around China.
After practicing Falun Dafa, he has been dedicated to his work. With the guidance of Zhen-Shan-Ren, he is never bribed by his customers. In such a morally corrupted society, he is committed to ethical actions.
As he practices Falun Gong, he was illegally detained at Tianjin Railway custody, Tianjing Qingbowa forced labour camp, Tianjin Shuangkou forced labour camp, Yushan forced labour camp at Ji County in Tianjin, and Tianjin Hexi custody. On May 31, 2003, he was illegally sentenced to nine years in prison.
In custody, Zhou Xiangyang was subject to a range of torture methods: ruthlessly electrocuted all night and bruised all over the body and a consecutive 30 days of sleep deprivation. Apart from these, he was placed in a solitary confinement cell for a few times and force-fed.
By the end of June 2008, Zhou Xiangyang went on a hunger strike for more than a year at Gangbei prison to protest persecution. He weighed only about 40 kilograms and was too weak to walk, nor could he control his bowels or bladder. He was on parole for medical treatment on July 28, 2009. On March 5, 2011, he was kidnapped again in a rented house in Tangshan and sent back to prison.
Zhou's wife, Li Shanshan, was also detained for insisting on redressing for her husband's grievances. Also, she was illegally re-educated twice for a total of more than 3 years. In 2013, forced labor system was stopped and Li Shanshan was the last person to come out of Shi Jiazhuang Women's labor camp.
The family reunion did not last long. At 7am on March 2, 2015, Tianjin policemen broke in again and kidnapped the couple. Zhou was illegally sentenced to seven years, while his wife six years in prison.
In July 1999, the former Chinese Communist Party leader, Jiang Zemin, launched a Cultural Revolution style persecution of Falun Gong. Zhou Xiangyang's family had been hard hit.
Wang Shaoping, Zhou Xiangyang's mother, was arrested many times because she refused to renounce her belief in Falun Gong. She was forced to be displaced for four years. In September 2005, she was subject to one year and a half re-education in a labour camp. On March 27, 2018, she was illegally sentenced to one year and a half in prison.
Zhou Zhencai, Zhou Xiangyang's father, was illegally detained at a forced labour camp for two years. On March 27, 2018, he was illegally sentenced to one year and a half in prison.
Zhou Xiangdang, Zhou Xiangyang's elder brother, was illegally sentenced to nine years in prison in 2001. Zhou's sister-in-law was illegally sentenced to three years in prison.
Chinese version: https://www.zhengjian.org/node/266081