Dafa Practitioners in Northern California Celebrate Thanksgiving Day Convoy Parade
PureInsight | January 12, 2021
[PureInsight.org] On Saturday, November 21, 2020, the sky was pure blue and the fall weather was colorful. After enduring eight months of the Chinese Communist Party virus (Covid-19) and more than two months of wildfires, the people of California were finally able to breathe. On this beautiful weekend, people were busy preparing for Thanksgiving dinner. I also purchased Christmas gifts for my relatives and friends. The parade convoy formed by some local Dafa disciples who appeared in the shopping center in the small town of Folsom in Northern California is undoubtedly their most unexpected surprise today.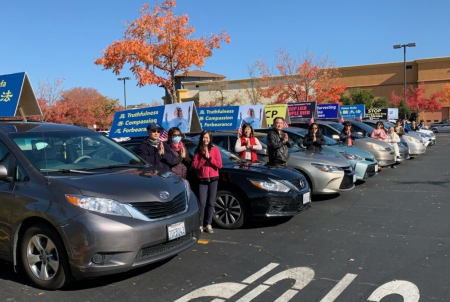 A neat display board was placed above each parade vehicle, with the American flag on the right. At 11:38 am, the convoy departed from Sam's Club and passed through the most important shopping centers in Folsom Town along the way: Palladio shopping center, Broadstone Plaza, Target shopping center, as well as the scenic Folsom Powerhouse, California Historic Park, and finally assembled at a Chinese supermarket (99 Ranch Supermarket). The parade lasted two hours and ten minutes and ended smoothly.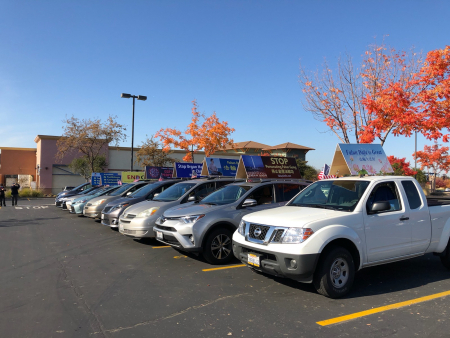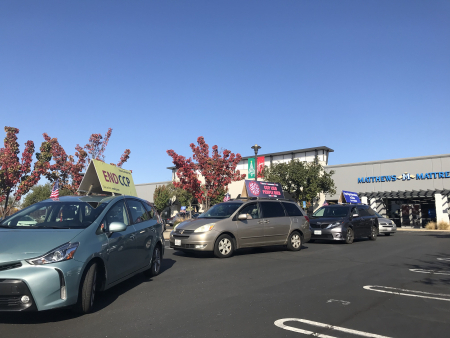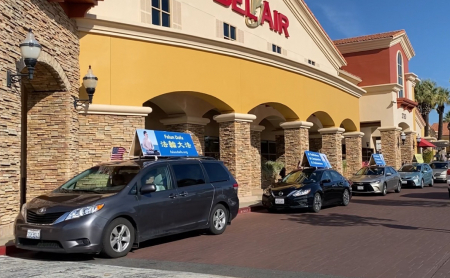 Some people along the way took pictures of the grand parade; some stopped and read carefully the display boards above the vehicle convoy, "Falun Dafa", "Truthfulness, Compassion, Forbearance", "Stop Persecuting Falun Gong", "Stop Live Harvest Organ"; some drivers saw the "Disintegration of the CCP" and "The CCP's lies cause the spread of the virus" and couldn't stop blasting their car horns to express their support; more people were looking at our parade convoy while busy shopping or dining outdoors. Some of those people were smiling.
The Thanksgiving parade of Dafa disciples was peaceful, accompanied by "Pudu" music, it passed on the beauty of Falun Dafa to the world, and at the same time conveyed their deep affection and love for this land. May the people understand the truth, and hope that more people will obtain Dafa and grateful to our respected Master, grateful to truth-benevolence-tolerance!
Chinese version: http://www.zhengjian.org/node/263480