PureInsight | August 25, 2019
[PureInsight.org]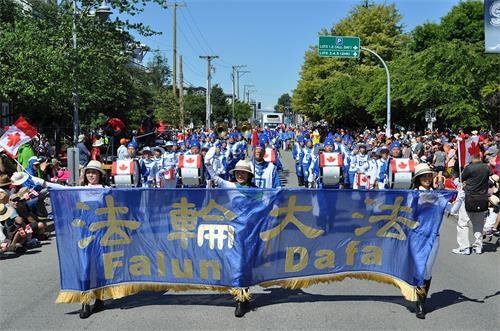 On July 1st, 2019, approximately 100 groups from different ethnicities and faiths participated in the Canadian National Day Parade in Richmond, Vancouver. Nearly 100,000 people watched the parade. The Falun Dafa (also known as Falun Gong) practitioners' entry was warmly received and was very eye-catching. Due to the Falun Gong practitioners' participation every year, people were very familiar with them and gave them a warm welcome.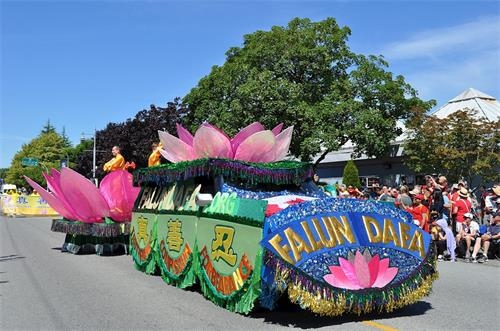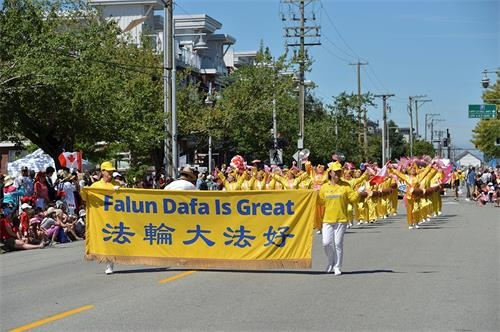 Mainland Chinese immigrant Amy Lu said she had watched the National Day Parade for several years and the Falun Gong group was very impressive. They marched valiantly and spiritedly with their blue shirts. A big character "Music" was displayed on their shirts. The following team members were wearing yellow clothes. They looked very energetic while drumming. Ms. Lu said, "The Falun Gong parade is great!"
Senior Richmond City Councilor, Qu Zeguang said that it was so nice to celebrate Canada National Day together. "More importantly, this parade brings people of different ethnicities and cultures together. As we can see, the parade has various kinds of floats and flower boats. Various ethnic groups get together peacefully and happily."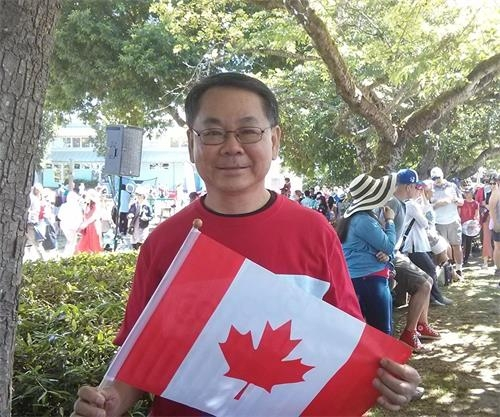 Qu Zeguang welcomed the Falun Gong entry. He said it was good that Falun Gong practitioners can participate in the parade. People can see the different groups in our community. He also said, "Canada is a free country that welcomes people with different cultures, religions and beliefs. I believe it's the reason why Canada is such a beautiful country."
Chinese version: http://www.zhengjian.org/node/252627