PureInsight | February 26, 2018
[PureInsight.org] According to incomplete statistics, in 2017, Falun Gong had received at least 46 awards and 9 congratulatory letters from all levels of US government. There were at least 6 Resolutions passed by US government to commemorate Falun Gong as well.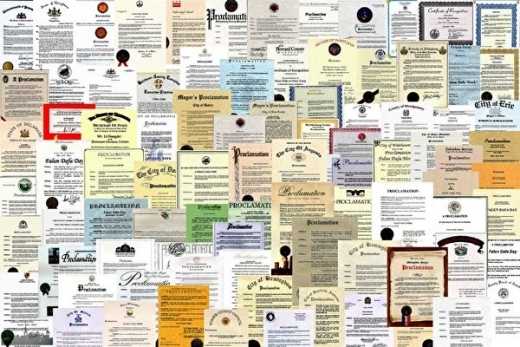 One Resolution was passed by all 63 senators in New York State. Another award was issued by 42 Assemblymen in a joint declaration.
Politicians praised Falun Dafa's "truthfulness, ccompassion and forbearance" as reflecting universal values. They recognized Falun Dafa's contribution to the community and the grand occasion of Falun Dafa's preaching world-wide.
6 Resolutions
The first was Resolution 1432 passed by the New York State Senate in April 2017. It was also the seventh consecutive resolution passed by the New York State Senate to award "World Falun Dafa Day."
The resolution said: "Today, Falun Dafa is practiced and cherished by millions of people in more than 114 countries and has received over 3,000 awards."
"To the people of China, Falun Dafa provides a source of strength in the face of oppression; although the practice is banned in the land of its origin, practitioners persevere in the pursuit of their spiritual beliefs, risking imprisonment or worse.
That this Legislative Body pauses in its deliberations to commemorate the 18th Annual World Falun Dafa Day Celebration, to be observed May 12-14, 2017."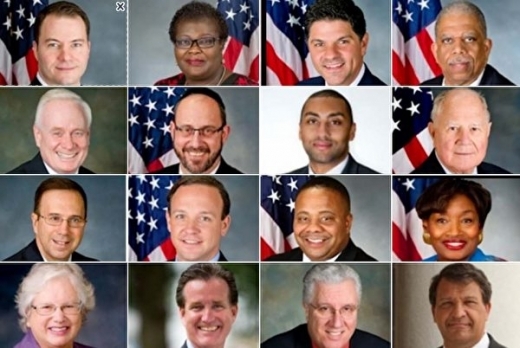 Minghui website reported that resolution was launched by John J. Bonacic in the 42th Senate District, cosponsored by 31 senators and passed by 63 senators.
The second was the 1552 resolution passed by Texas. The resolution stated that "the House of Representatives of the 85th Texas Legislature hereby recognizes May 13, 2017, as World Falun Dafa Day, and extends to all practitioners sincere best wishes for a meaningful observance."
Falun Gong was a Buddhist practice based on "truthfulness, compassion and forbearance", which includes five sets of exercises. In 1992, the founder Li Hongzhi introduced it in Changchun, China and now it has spread to more than 100 countries and many regions in the world.
The third Resolution was passed by 50 senators at the third largest city, Chicago on May 24, 2017.
"Falun Gong has been the most popular meditation and cultivation movement in the world," said the Resolution. "We, the Mayor of Chicago and members of the Chicago City Council, pay tribute to the Falun Dafa Society and practitioners of Falun Dafa. Celebrating the 25th anniversary of Falun Dafa's spreading. "
The fourth and fifth resolutions were respectively passed by Missouri Senate and House to celebrate Falun Dafa Day.
The sixth resolution was passed by the Michigan House to celebrate World Falun Dafa Day.
23 awards were from New York State
In New York, the member of the House Lee Zeldin awarded Falun Dafa individually.
Fifty two state congressmen sent a joint compliment to celebrate Falun Dafa Day.
"Falun Dafa practitioners' belief and spiritual achievements have made New York better," Said the compliment, "Falun Dafa was founded by Mr. Li Hongzhi and made public in Changchun, China in 1992. Since then, Mr. Li Hongzhi has won Nobel Peace Prize-nominee four times. Falun Dafa is made up of five sets of exercises; and the power of the peaceful exercise awakens the power of human spirit."
"Despite the harsh persecution of Falun Dafa in China, it has also been preserved and flourished."
The award was initialized by Steven Englebright, a Representative of New York State's fourth constituency, and 51 state congressmen signed.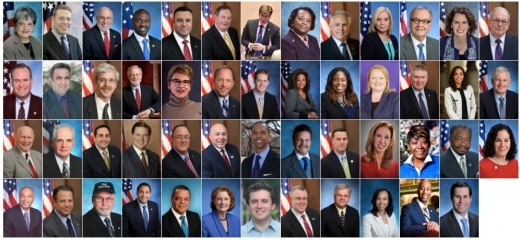 There were also two state senators from New York State awarded individually: Philip M. Boyle and Elaine Phillips. Six state congressmen recognized individually: Alfred Graf, Andrew Garbarino, Chad Lupineacci, Andrew Raia, Charles Lavine, and David McDonough.
Four City Councilors from New York sent their compliments: Mark Levin, I. Daneek Miller, Donovan Richards, and Eric Ulrich.
The compliments were also sent by two councilors in Brooklyn: Robert Cornegy, Alan Maisel and State Assembly member Joseph Borelli.
Six cities and counties under the State of New York issued a Praise Order, including: Nassau County Long Island, Suffolk County Long Island, Mayor of Glen Cove Long Island, Town of Brookhaven, Town of Riverhead, Town of Smithtown, Long Island.
2 awards from Maryland
Maryland Congressman Jamie Raskin and Congressman John Delaney sent compliments to DC Falun Dafa Association to congratulate World Falun Dafa Day.
5 From Texas
U.S. Texas Representative Hubert Vo, State Assemblymen Dr. Alma Allen, Carol Alvarado and Dan Huberty both gave compliments to the Southern American Dafa association and congratulated the practitioners on Falun Dafa Day.
Sylvester Turner, the mayor of Houston, Texas, presented the award with a commendation to pay tribute to Falun Dafa for the benefit of people and to announce "Falun Dafa Day."
5 From Missouri
Missouri Governor Eric Greitens sent a compliment and announced May 13 as "Falun Dafa Day in Missouri."
In addition, cities in Missouri including O'Fallon, St. Charles, St. Peters and Wentzville respectively presented their compliments to praise "Truthfulness, Compassion, and Tolerance" and announced May 13, 2017 as their Falun Dafa Day.
5 Awards from Georgia
Georgia State Governors, Atlanta City Councils, and mayors of Norcross, Covington, Ringgold and other cities have all issued Praise Orders declaring Falun Dafa Month in May 2017 or May 13 as "Falun Dafa Day"
The other six
Awards to Falun Dafa Day were also from: Senate and House Massachusetts, Quincy City in Massachusetts State, Aventura of Florida, St Petersburg, Seattle, Washington state.
9 Congratulatory letter
At least four members of Parliament from New York State sent a separate congratulatory letter to congratulate Falun Dafa World Day. They were: Nydia Velazquez, Hakeem Jeffries, Yvette Clarke, and Daniel Donovan).
Congressman Hakeem Jeffries said in his letter: "I am grateful to Falun Dafa founder and spiritual leader, Mr. Li Hongzhi, Falun Gong practitioners and supporters around the world," and "I thank the Falun Gong practitioners for their continuous various free Falun Dafa activities in the community, so that people in the community can participate in this peaceful practice and help the community become more beautiful."
New York State Senator Toby Ann Stavisky also sent a congratulatory letter to praise Falun Dafa practitioners' healthy and happiness through exercises and meditation. She said Falun Dafa practitioners had an altruistic life style.
Also congratulatory letters on Falun Dafa Day were from: New York City Councilor Paul Vallone and three city council members in Brooklyn: Rafael Espinal, Brad Lander and William Jumaane D. Williams.
Millions of people benefited from Falun Gong's worldly spread
Falun Gong has been very popular among millions of people in the world. According to an incomplete statistic, by 2011, Falun Gong was awarded 1,632 times, and had 313 approved resolutions of support, plus 2,552 supporting letters.
Translated from http://www.zhengjian.org/node/241313