PureInsight | November 22, 2021
[PureInsight.org] From July 3 to July 4, 2021, Falun Gong practitioners from Washington D.C. attended parades in five cities of Maryland and Virginia. Practitioners displayed the beauty of Dafa on Independence Day and were welcomed by the public.
Because the Coronavirus lockdown had lasted over a year, people were incredibly excited for the parades. Both sides of the street were crowded.
The golden waist drummers, who were also Falun Gong practitioners, performed well. They wore bright yellow costumes and pink ribbons. Their bright smiles and cheerful music carried a unique Oriental charm, and brought happiness to many people on Independence Day.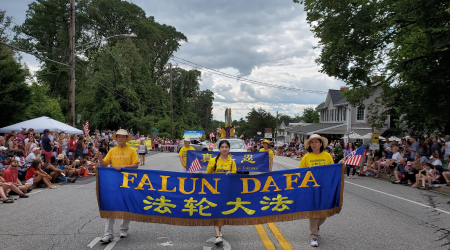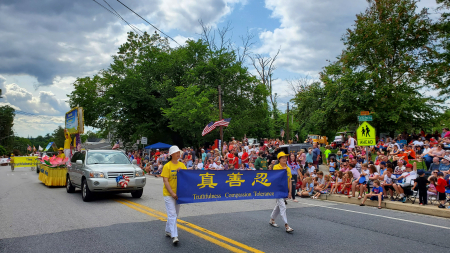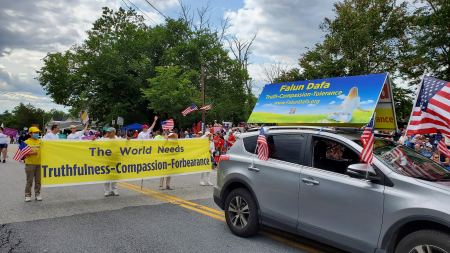 Falun Gong practitioners on the lotus flower float demonstrated meditative exercises, which gave viewers a peaceful mind. The float exhibition introducing Dafa was eye-catching.
Dr. Meixia Gao, a waist drummer who works as a data analyst for drug trials at a company in Washington D.C. said, "I aim to let people know about Falun Dafa, which is based on the principles of Truthfulness-Compassion-Forbearance. We have benefited from the practice and hope that others can benefit too.
"Because the persecution of Falun Gong in China is still ongoing, we hope many people can learn the truth. They should not be fooled by the CCP's lies.
"With the passage of time, people will acknowledge that we are positive and kind-hearted. They will be touched."
Falun Dafa has gained widespread popularity throughout over 100 countries and areas worldwide. The main book of Dafa, Zhuan Falun, has been translated into over forty languages and published globally.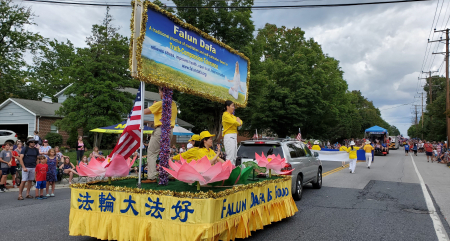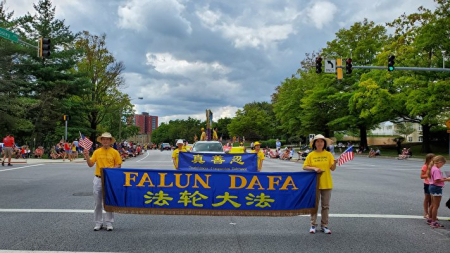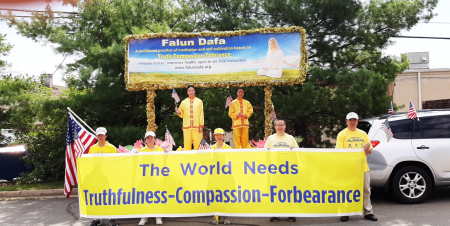 On July 3 and 4, parades took place in Fairfax, Palisades, Towson, Catonsville and Leesburg. Wealthy people in Washington D.C. mainly lived in Palisades.
A practitioner who followed the parade in Fairfax said, "I distributed about 500 truth-clarification materials. Both Westerners and Asians were happy to obtain the leaflets."
The Independence Day parade in Fairfax is large. On that day, many state legislators and local officials including Democrats and Republicans all participated in the parade.
Chinese version: https://www.zhengjian.org/node/268800