PureInsight | August 1, 2023
[PureInsight.org] On July 15, 2023, some Falun Gong practitioners held a July 20 anti-persecution parade in downtown Melbourne, calling on Australia and the international communities to stop the CCP's atrocities.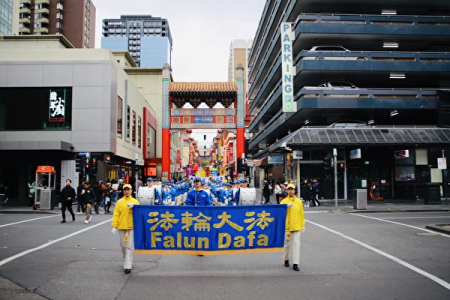 On July 20, 1999, the Jiang Zemin regime of the Communist Party of China launched a genocide persecution against Falun Gong. To this day, countless Falun Gong practitioners who believe in "Truthfulness-Compassion-Forbearance" are still brutally suppressed in mainland China. In order to stop the persecution, around July 20 every year, Falun Gong practitioners in Melbourne organize parades, rallies and other activities to tell people about this darkest day in human history.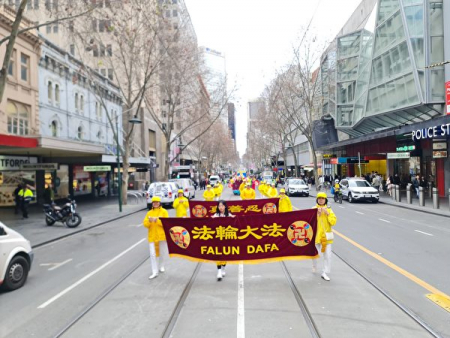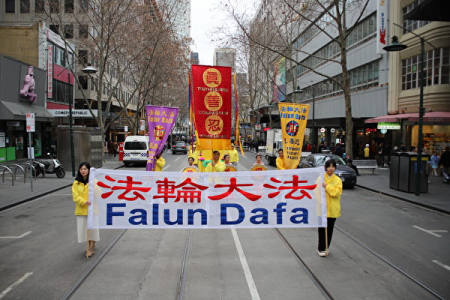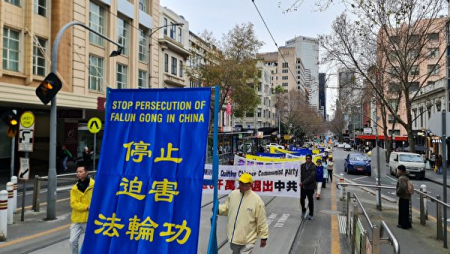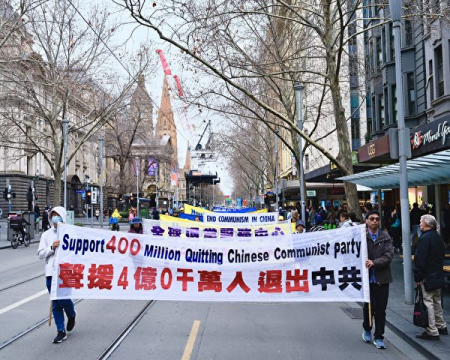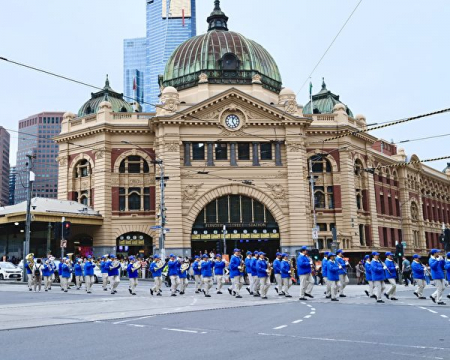 At 12:00 noon, majestic music resounded through the sky, and the magnificent Divine Land Marching Band led the parade from Queen Victoria Gardens.
The exercise team in bright yellow jackets demonstrated the Falun Gong exercises with beautiful and soothing music. The giant models of the Falun Gong books in both Chinese and English, and the Falun's Design were eye-catching.
The young Falun Gong practitioners sitting on the beautifully crafted Falun Gong float boat were pure and beautiful, and the fan dance team showed the gentle beauty of Huaxia's posterity.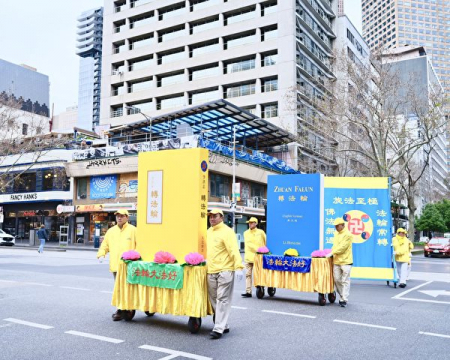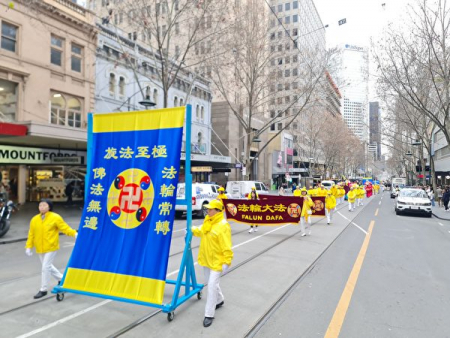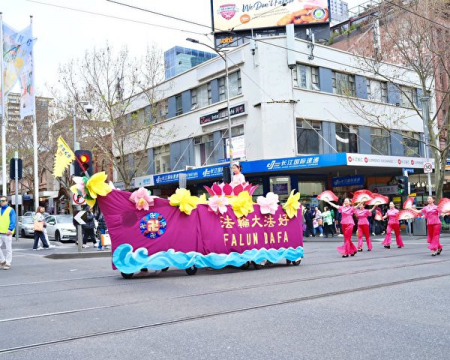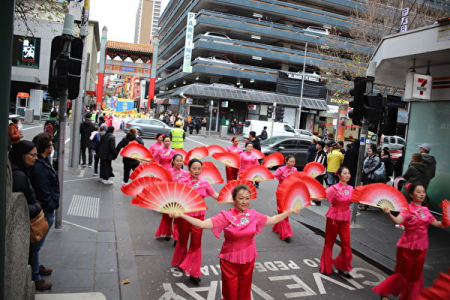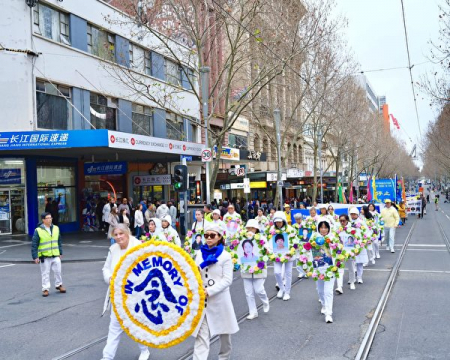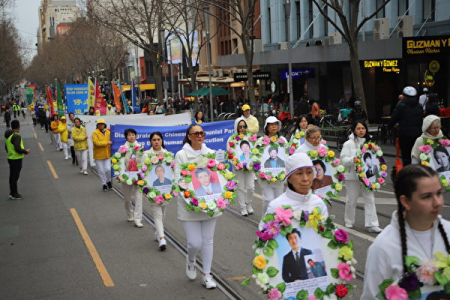 The white mourning team was solemn. Falun Gong practitioners held portraits of practitioners persecuted to death by the CCP, and the practitioners walking in the front held white wreaths with the eye-catching word "Nian", which made people cry.
The waist drum team dressed in golden costumes beat the drums joyously and festively, celebrating the withdrawal of more than 400 million Chinese from the CCP's party, league and team organizations.
Grand Parade Shocks Passers-by
The parade passed through several main roads in the city center, including Chinatown, and finally arrived at the State Library of Victoria. The majestic parade shocked passers-by, and people stopped to take pictures.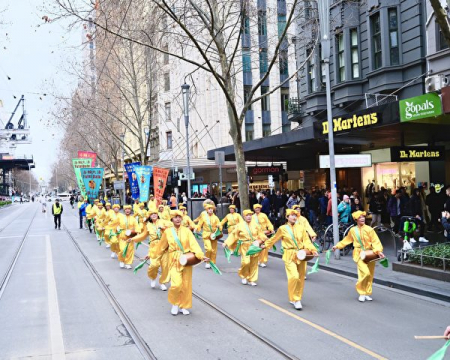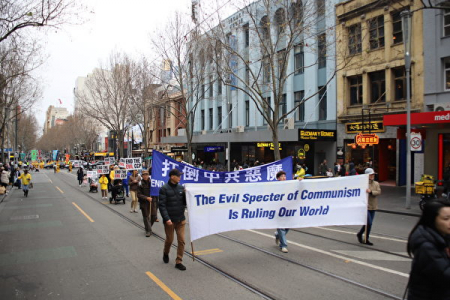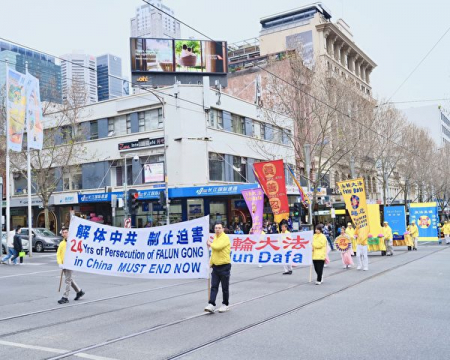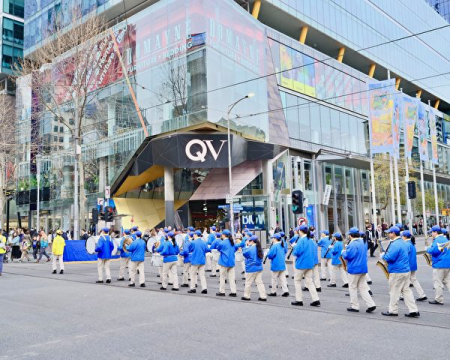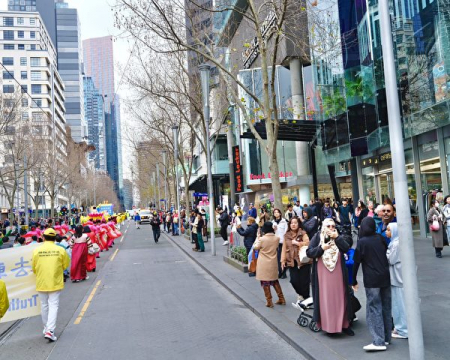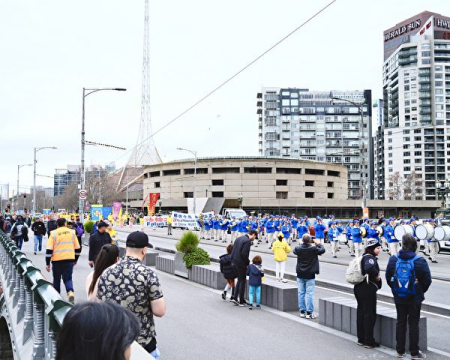 Chinese version: https://www.zhengjian.org/node/284364