PureInsight | January 12, 2021
[Pureinsight.org] "Speech for those who cannot speak and pass the power of kindness to every soul".
<Up We Soar> is an animated documentary jointly produced by Canada's New Realm Film and Television Company and NTDTV. It is one of the series of documentaries under the <Legend Times> documentary section (http://www.legendsunfolding.com) of NTDTV.
The parents of the beautiful seven-year-old girl, Fuyao, were arrested and imprisoned for their faith. Without the care of her parents, Fuyao was bullied and humiliated, but she refused to be crushed by a huge violent machine. She and her mother found an unusual way to cross the high wall and grow together.
This is not the story of a child struggling helplessly in the cracks of society. Despite all the hardships, Fuyao tried to bring warmth to her mother in prison. When her mother regained inner strength, despite being locked in a high wall and surrounded by fierce criminals and prison guards, the mother nurtured and guided her daughter in a special way, helping her daughter through the turbulent teenage years.
Through the artistic techniques of animation and in-depth character interviews, this film presents to the audience a true story about courage, love and persistence in the darkest era.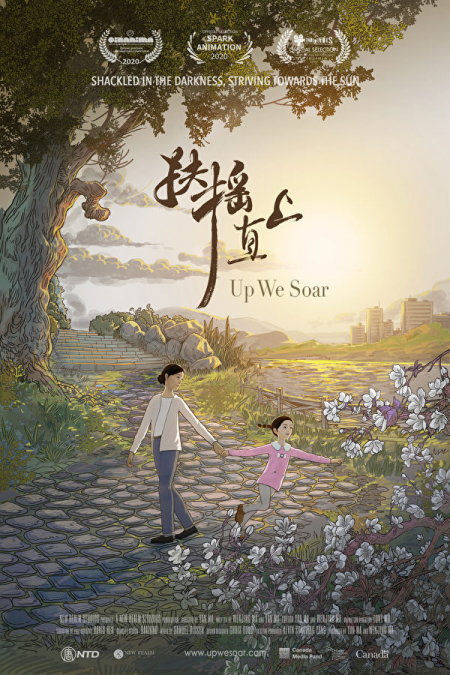 <Up We Soar> has been named the Best Feature by the Los Angeles Animation Festival and has been selected for many internationally renowned animation film festivals, including the Cinanima Festival, Spark Animation Festival, Thomas Edison Black Maria Film Festival, and Tindirindis International Animated Film Festival in Lithuania.
The 2019 Oscar winner <Bao (package)>, the 2018 Oscar winner <Dear Basketball>, and the 2015 Oscar winner <Bear Story> are all first created by The Spark Animation Film Festival. <The House of Small Cubes> by Espinho International Animation Film Festival won the 2009 Oscar for Best Animated Short Film.
The Los Angeles Animation Film Festival, which awarded the Best Feature Film Award for <Up We Soar> is also a remarkable young company in the industry. Founded in 2007, the Los Angeles Animation Festival (LAAF) is the only international animation film festival in Los Angeles.
Every year, the Los Angeles Animation Festival brings together the world's freshest and outstanding works. Past guests and winners include Pixar director Brad Bird, Sean Lennon (also art director), Bill Plympton, Peter Chung, Chris Prynoski, Tom Kenny, Jerry Beck, and Will Vinton (deceased).
Chinese version: https://www.zhengjian.org/node/264185