PureInsight | October 4, 2015
[PureInsight.org] Each year on July 4th, many Americans will parade in the streets to celebrate their Independence Day. People will also remember to honor the principles those founding fathers followed when they fought to gain independence from the English colony. One important principle is that everyone should be guaranteed to enjoy his or her rights on freedom.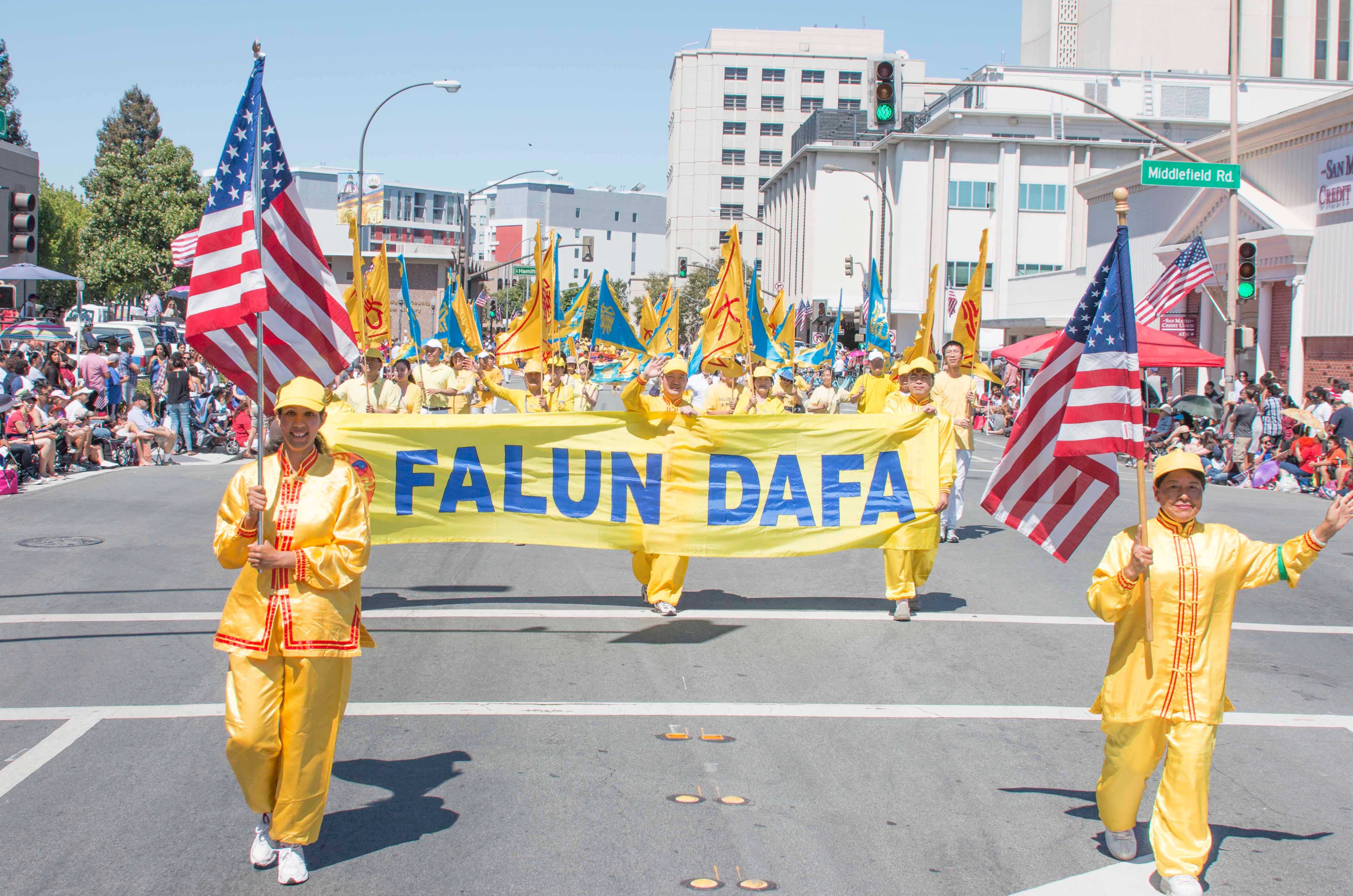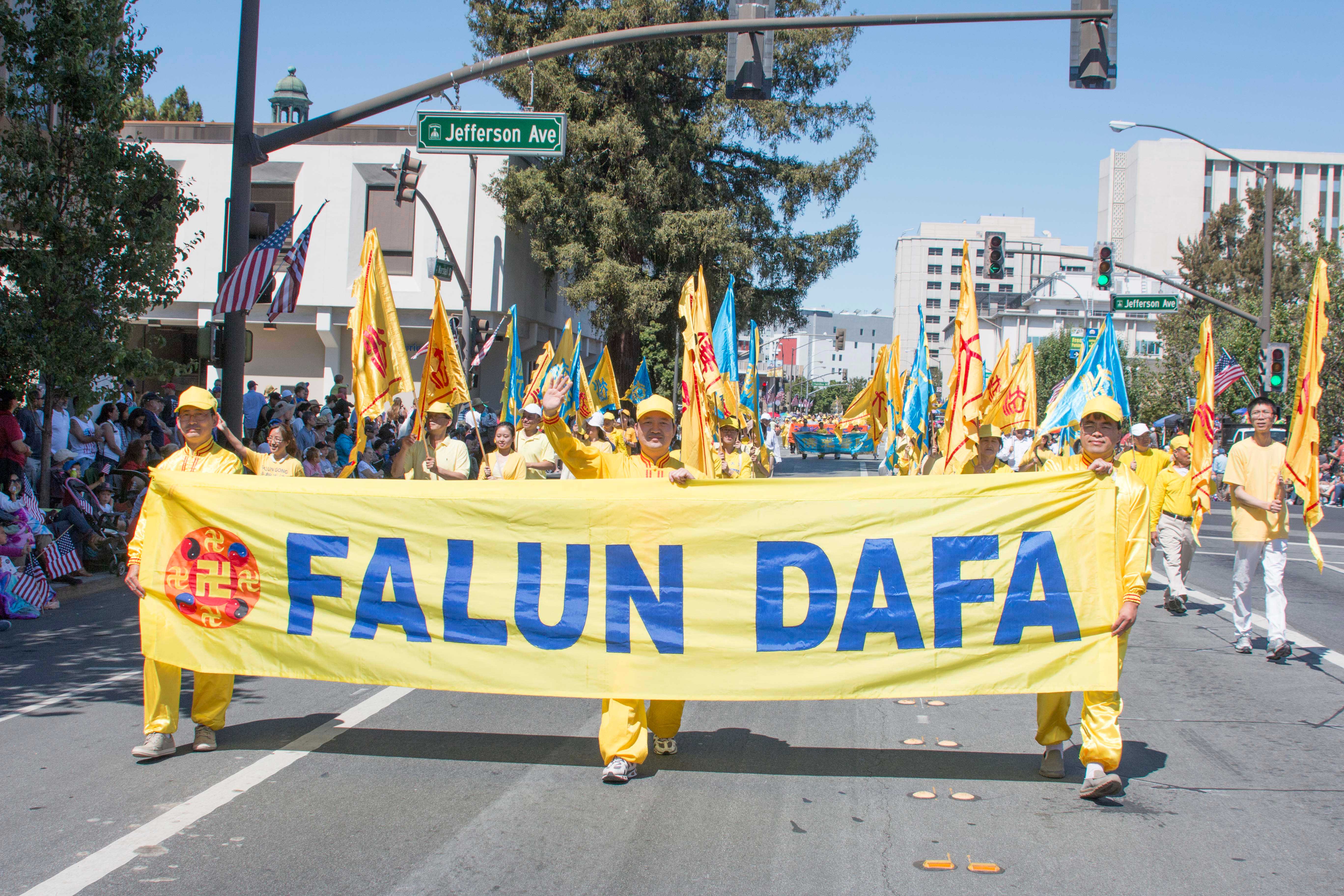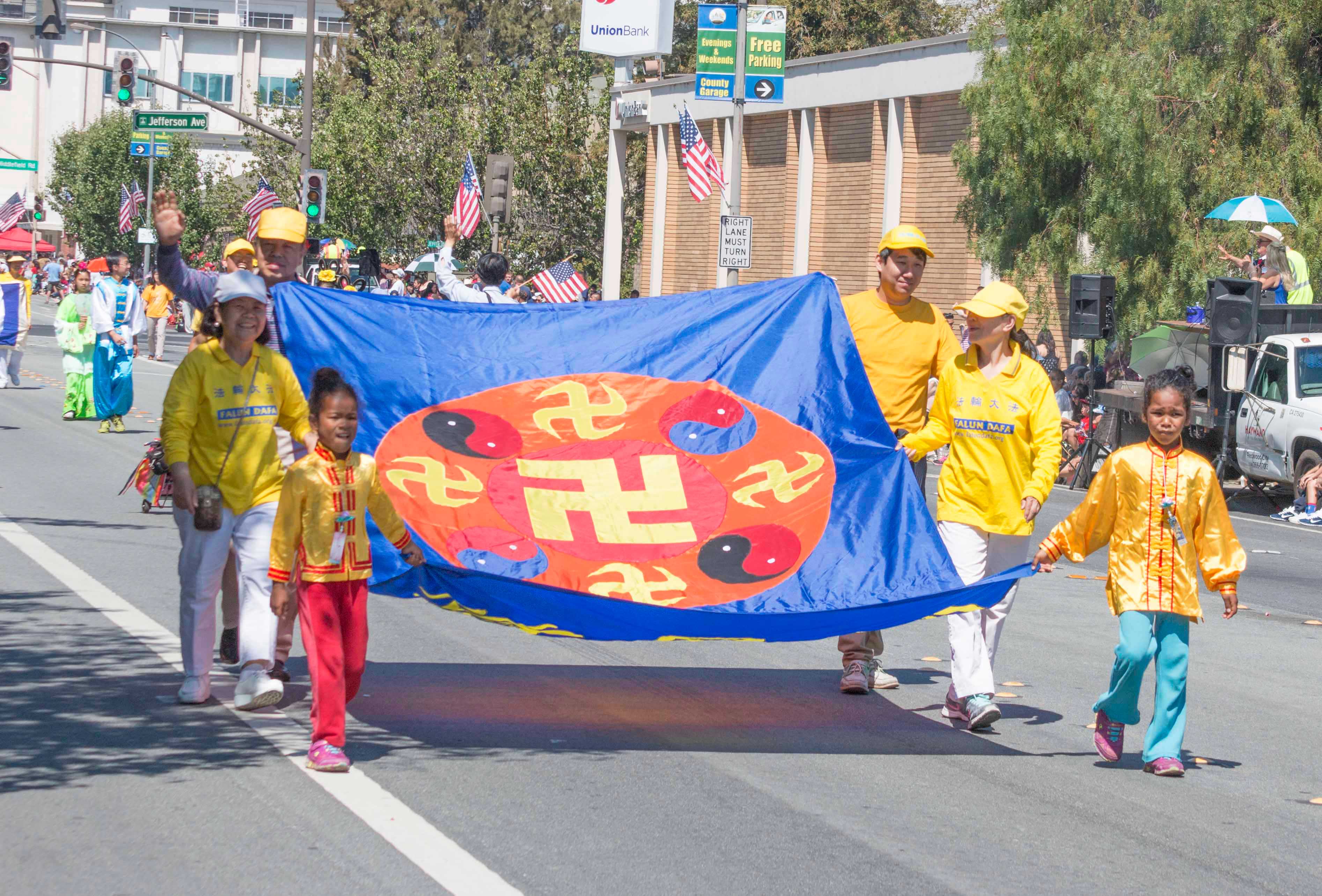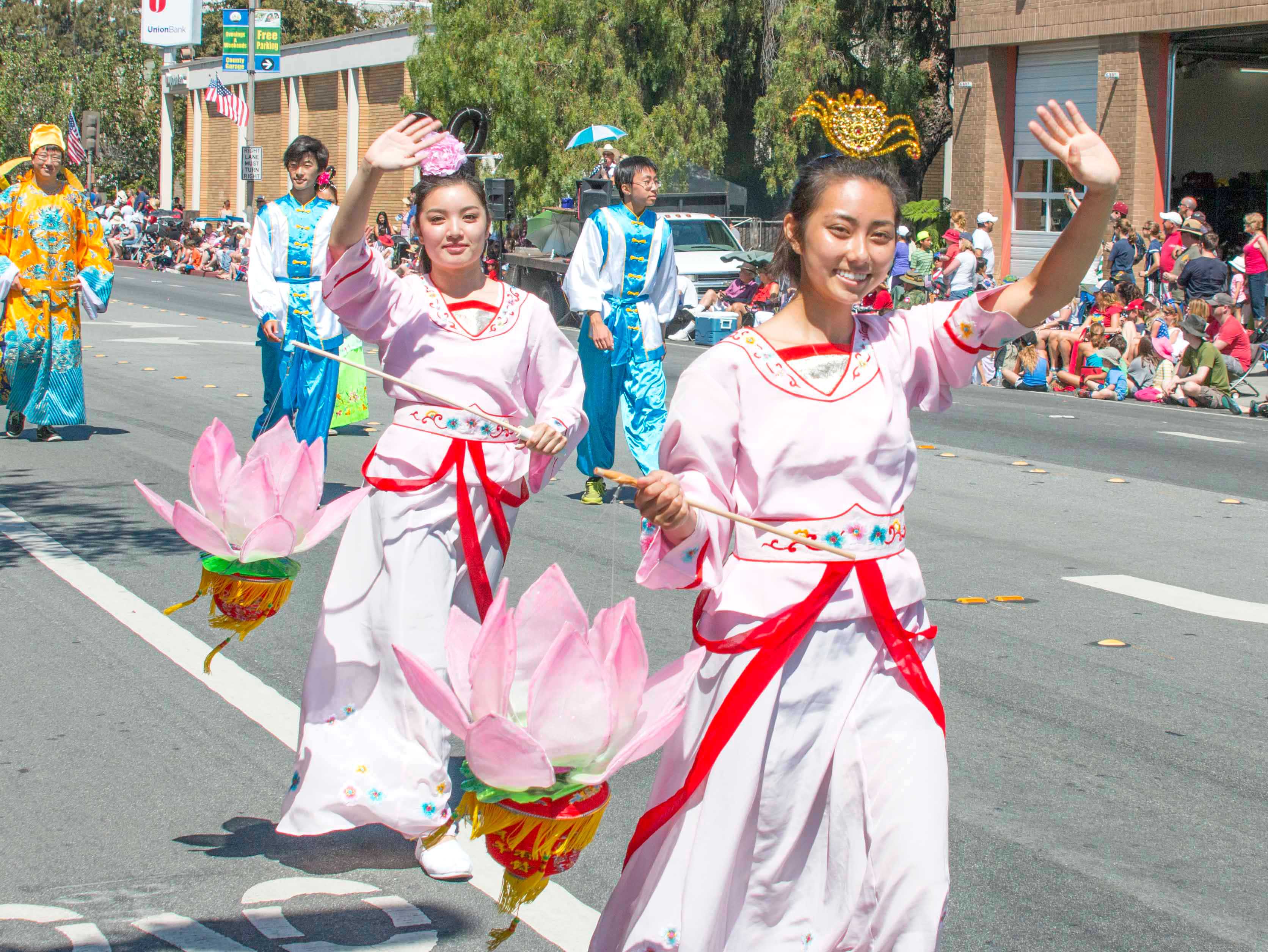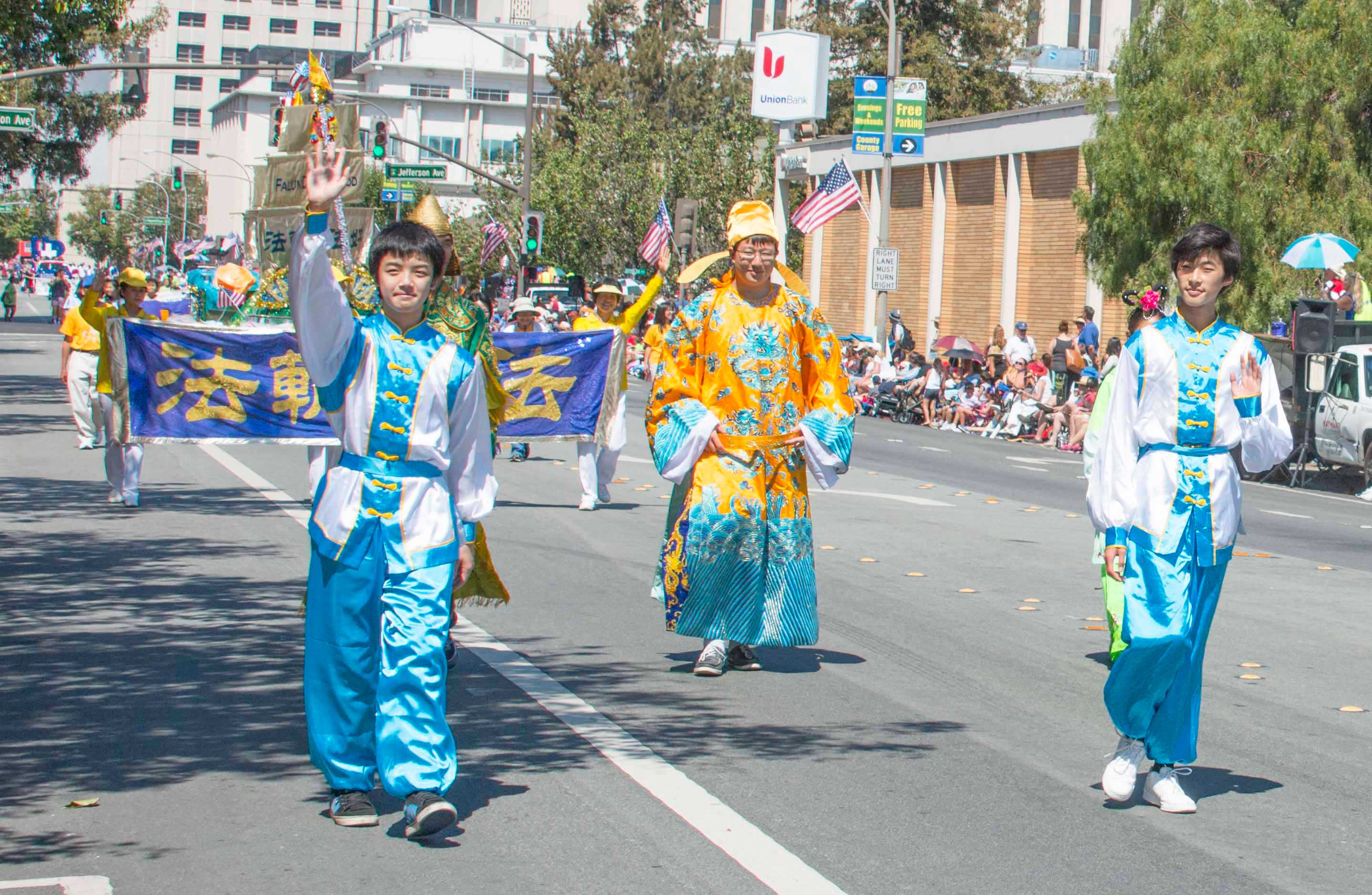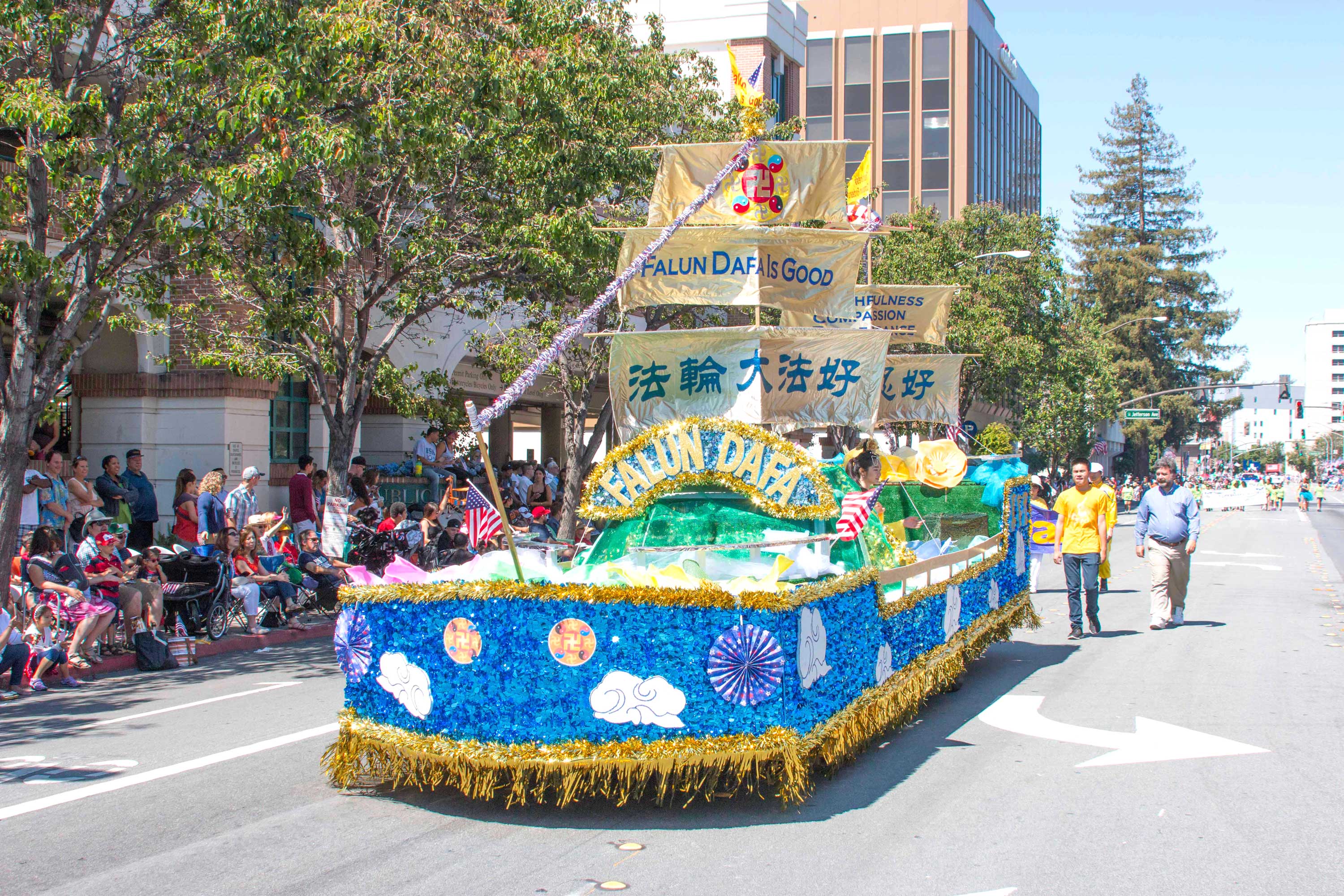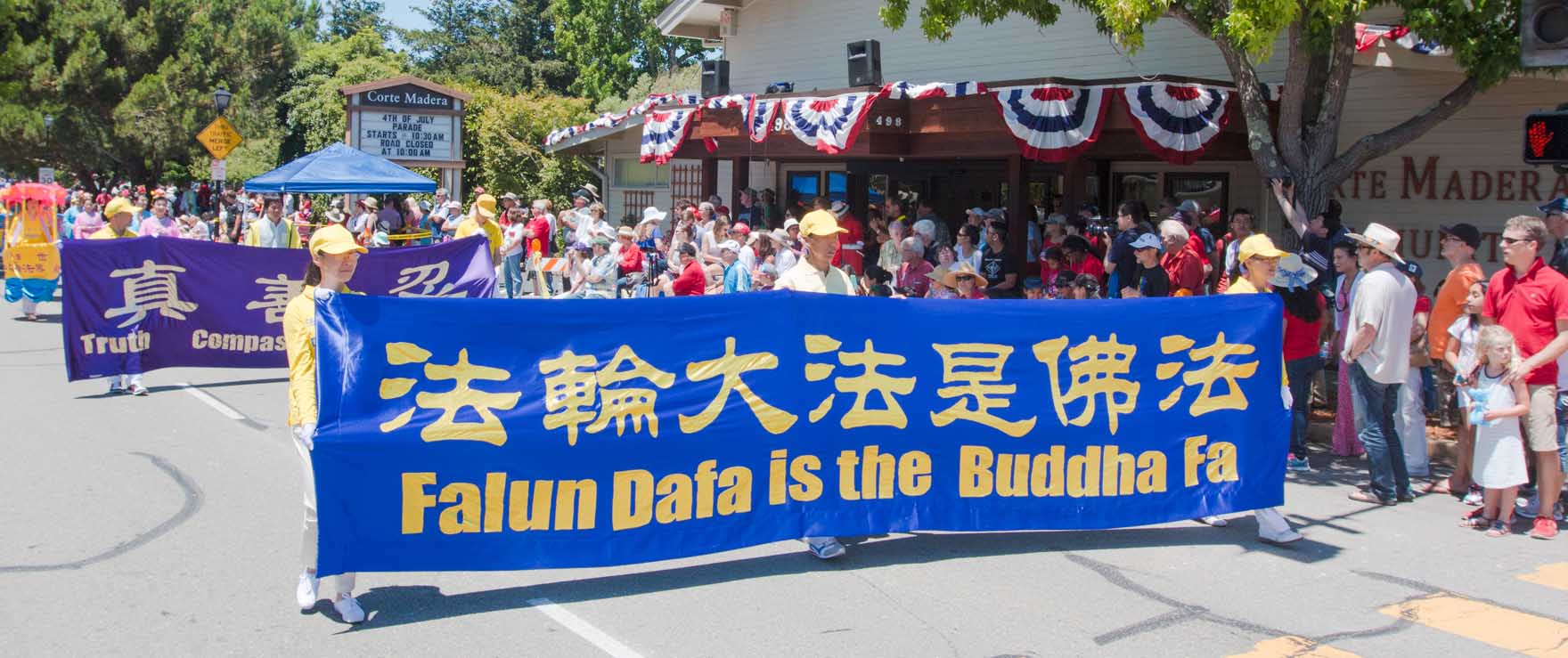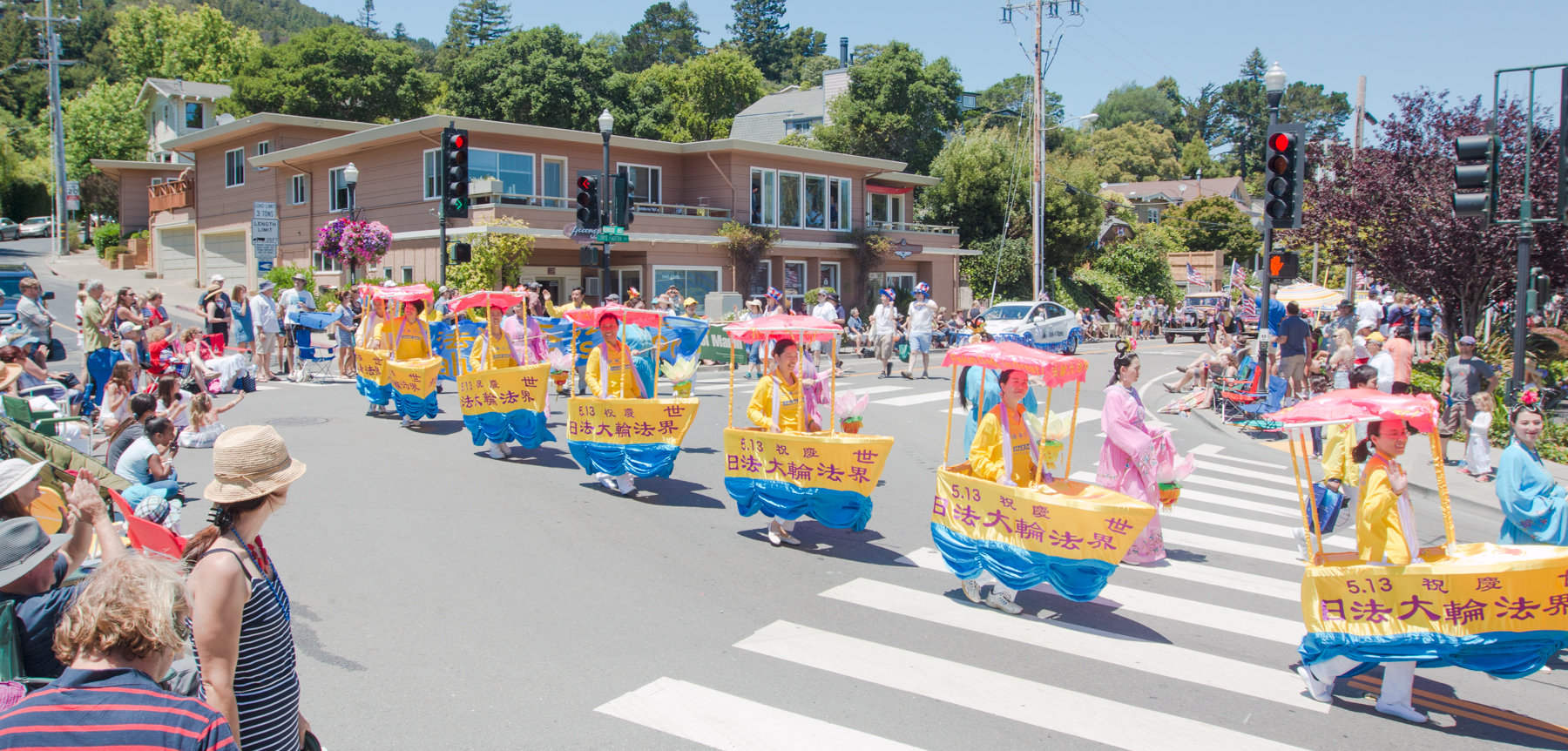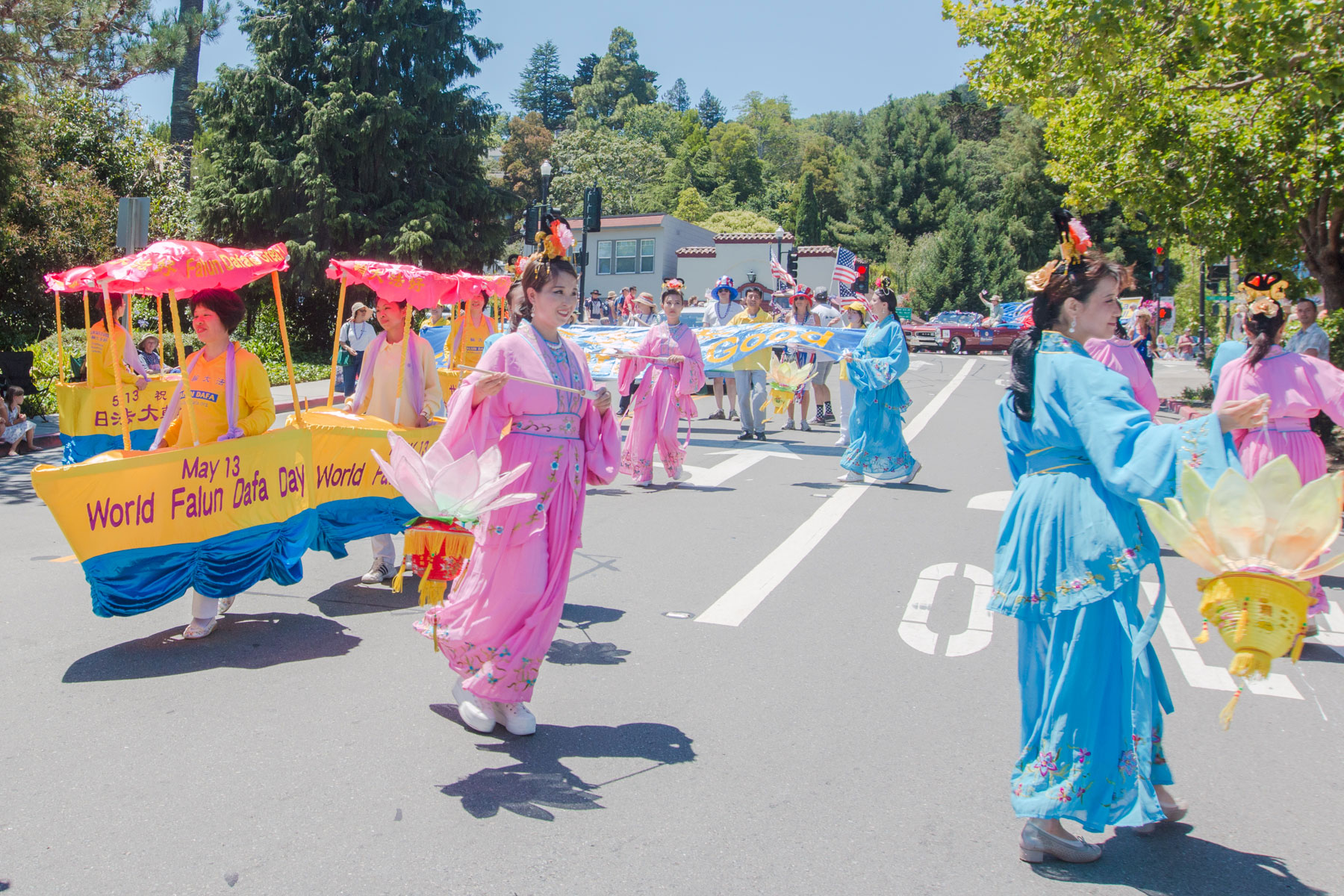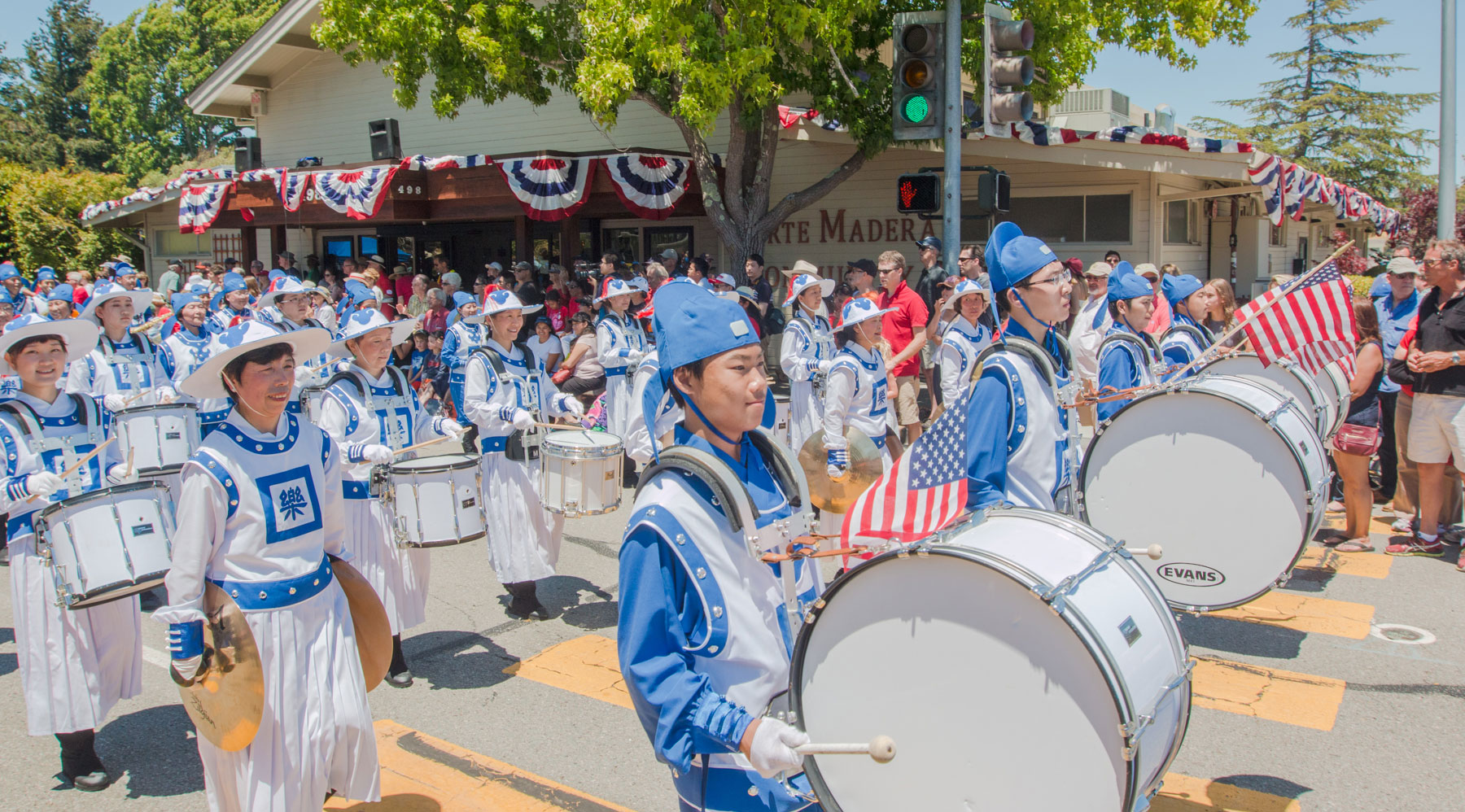 Falun Gong practitioners living in the state of California have been invited to participate in the Independence Day parade every year. This year, yet again, Falun Gong practitioners took part in two such parades in north California, one in Redwood City and another in Larkspur City.
Falun Gong practitioners formed several groups in the parade at Redwood City. Practitioners in the first group waved colorful traditional flags to the audiences, while practitioners in the second group demonstrated the Falun Gong exercises along the way. Practitioners in the third group kept dancing all the times, some of the practitioners dressed like ancient Chinese dynasty emperors. A flower float that was decorated with various Chinese cultivation elements followed at the end.
The sponsor for that parade started to praise Falun Gong and introduce Falun Gong to the audience when Falun Gong practitioners moved close to the parade judgement panel. The sponsor said through the louder speaker: "Falun Gong has brought health and peace to people across the whole globe. Falun Gong has followed the universal principle of 'Zhen Shan Ren'. Let's welcome Falun Gong." The sponsor continued: "Now I understand why Falun Gong has won the parade championship every year, yes, they are the champions, many thanks to Falun Dafa! Look at them, their formation is very orderly, and the Falun Gong exercises are made up of 5 different elements; the exercises are very easy to learn, millions of people across the world have benefited from the practice of Falun Gong, they become more compassionate, and their minds are elevated to a high level. Every one of us needs it, we are so happy to see Falun Gong in the parade."
It has already become a tradition for many Californian families to watch the Independence Day parade celebration. Also, many newcomers enjoy the parade as well. Cynthia was one of those newcomers; she had never seen Falun Gong in a parade before, it was her first year to see the parade. Cynthia told Falun Gong practitioners: "Your team is so beautiful, I like your costumes, lotus flowers, they are so beautiful. I didn't know Falun Gong before. The principle of 'Zhen Shan Ren' is just beautiful, I just took a photo of the banner that showed Falun Dafa, I am going to search online to try to find more information."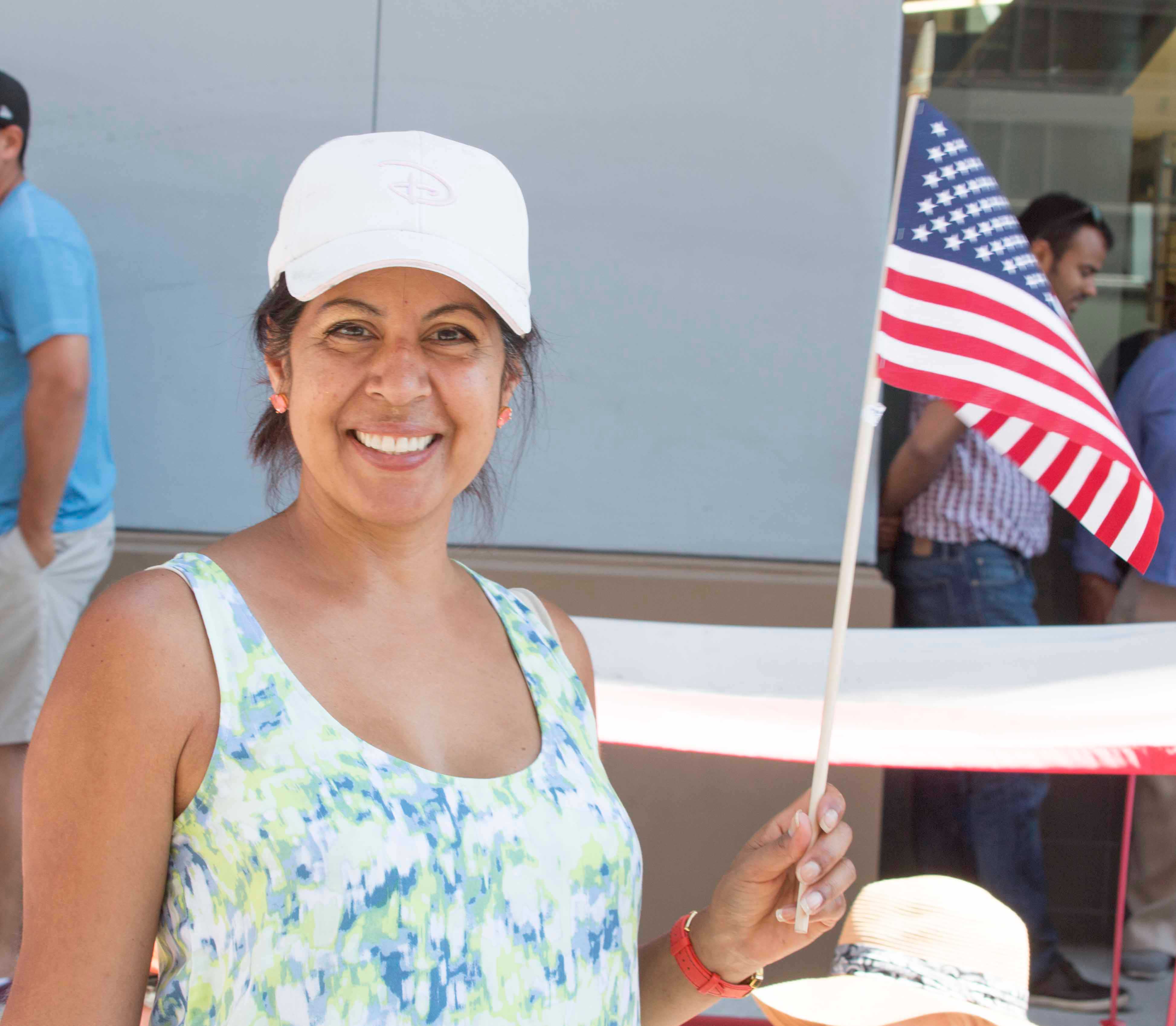 When Cynthia was told by Falun Gong practitioners that Falun Gong was still banned in China, Cynthia replied: "Wow, that's horrible, that's disgusting. Falun Gong people can't exercise their own freedom of faith, that's just terrible. I am glad you can enjoy the freedom here, I am glad you can cultivate in the US. I've learnt quite a lot from this parade, I really want to thank every one of you."
Redwood City local residents Rob and Drew applauded excitedly for Falun Gong; they said that the Falun Gong team in the parade was marvellous. They also told nearby people that Falun Gong was banned in China. "That's really bad and that's why many people like those Falun Gong people decide to come to the United States of America. They want to live in a free society; they want to have their own choices." Rob and Drew said to each other.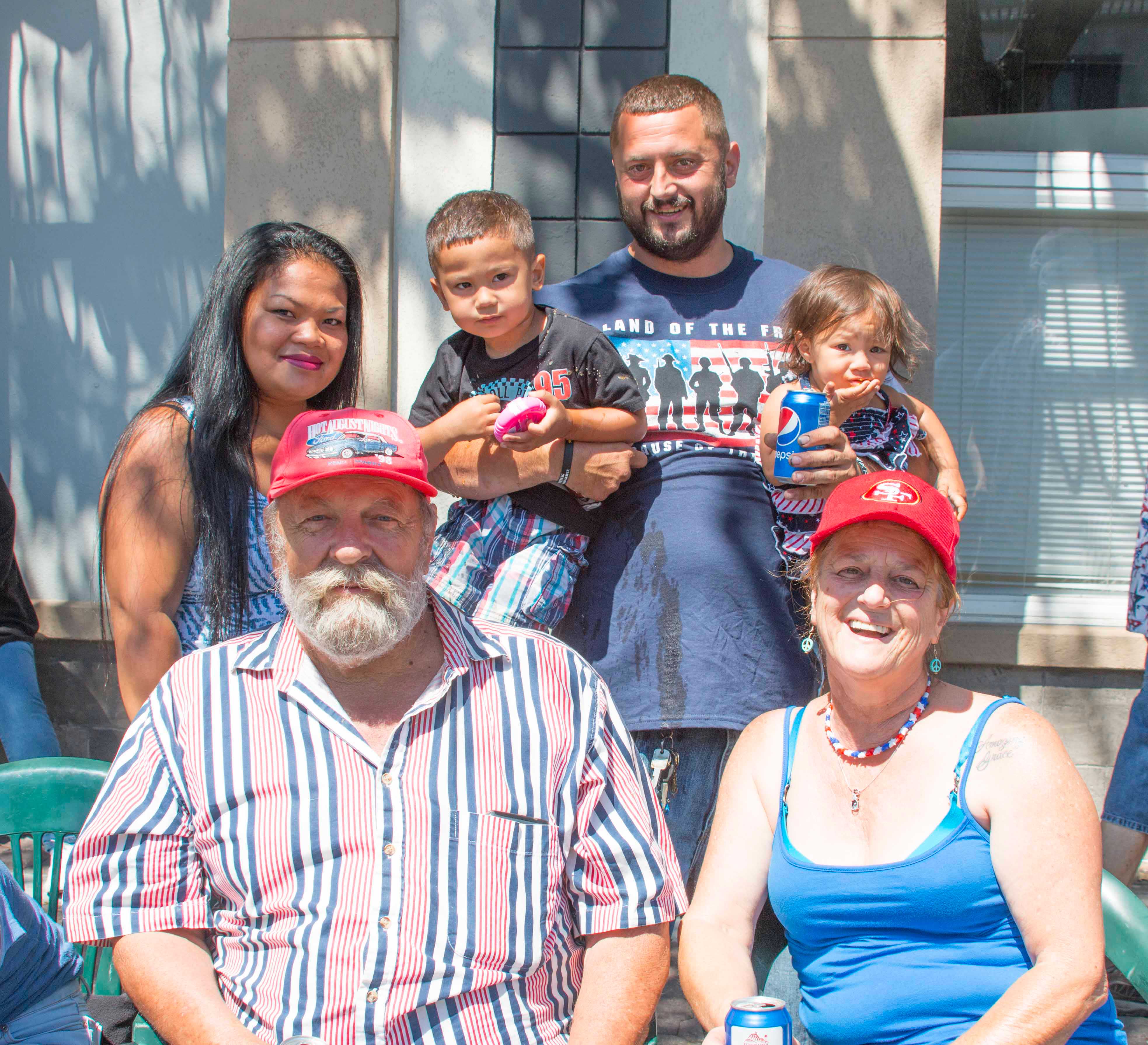 Donna and her husband, Don, live in Redwood City. This year, this couple brought their whole family (6 kids) to watch the parade again. Donna said: "I like Falun Gong's costumes and lotus flowers. I like those rotation dances, they are so beautiful. Falun Gong can help elevate people's characters; it is such a wonderful set of exercise. This Falun Gong team is the best in the whole parade show."
Juan and his wife, Bridge, are immigrants from South America. The couple also praised Falun Gong when Falun Gong practitioners approached. Juan said, "I like very much the Falun Gong formation. It is so beautiful; the flower float, the costumes, everything is so wonderful." Bridge agreed: "Yes, I know China is controlled by the Chinese Communist Party. I want China to stop the persecution on Falun Gong. Everyone should have his or her freedom to express his or her opinions. We came from South America. We are celebrating freedom now, we like this country, we like the freedom in this country."
On July 4th of 1776, all the 13 English colonies in North America announced their independence statements. They formally told the world they were now independent. The United States of America was thus born. July 4th is therefore a national day for the American people. It is also called Independence Day. Every year, people will celebrate this special day through all kinds of activities such as parades, fireworks, recitation of the Independence Statements and so on.
Translated from: http://news.zhengjian.org/node/26811