PureInsight | January 25, 2021
[PureInsight.org] Sonia and her family sent greetings to Master Li Hongzhi for a Happy New Year. Her mother Carmen said, "From Master, I get the inexhaustible source of truthfulness, compassion, and tolerance."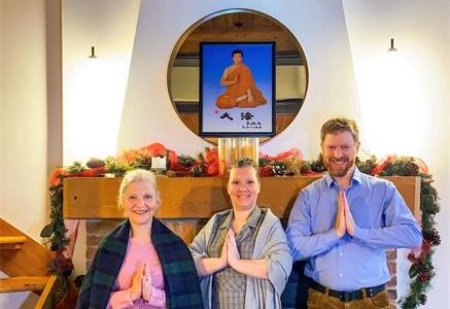 People of the East and the West got benefits from the spreading of Dafa. In Quebec, Canada, many Westerners have benefited a lot from the principles of "truthfulness, compassion, and tolerance", and some of their families have started practicing Falun Dafa because of this. Before New Year, some Western Falun Gong practitioners shared the beauty of their Dafa practice, expressed their deep gratitude to Master, and wished Master a Happy New Year!
Sonia is a technical writer, her husband Felix is a wildlife biologist, and her mother Carmen was a laboratory technician before retiring. In 2011, Felix brought back two Falun Dafa flyers from Montreal. Since then, the whole family has begun practicing Dafa.
Carmen said that when she obtained the Fa, she felt the grandeur of the universe and the Master's compassion, "From Master, I get the inexhaustible source of the virtues of truthfulness, compassion, and tolerance. I learned that virtue can make people improve in the right way. Enriching the divine side can be sublimated to a better person."
Before Sonia obtained the Fa, she was in a state of exhaustion, angry, cynical, over-stressed, and her life in an unhealthy state. On the first day of practicing, she quit smoking and her stress has reduced. "The most important thing is that the compassionate Master gave me the magic weapon to treat others, tolerate others, and be more truthful to myself so that I can continuously improve in accordance with truthfulness, compassion, and tolerance, and stand up again when I fall. This is a very wonderful gift."
Felix found the true meaning of life in Dafa and found peace. He shared, "It is very important that I have found a balance in my life. I live according to the principles of truthfulness, compassion, and tolerance, and all aspects of life have been improved."
Before the New Year, the family expressed their gratitude to the Master, "Thank you, Master, for everything that has given us. I wish Master a Happy New Year. We will be more diligent and firmer on the road of cultivation. Dear Master, we will always be grateful to you."
Hairdresser Catherine started practicing Dafa in 2011 when she was twenty-five years old. From her teenage years, she was troubled by anxiety and had a hard life. After a few months of cultivation, her body and mind changed. For the first time in her life, she felt happiness from the heart, that feeling is very wonderful.
Practicing Dafa allowed Catherine to regain her confidence. She expressed, "I am full of confidence in life, full of confidence in God, and gradually regaining confidence in myself through all these. Dafa gave me the courage to face fears and to see the positive things in life. Dafa has also allowed me to be calm, considerate, and help others."
After practicing for a year, she became pregnant. In the past, she had doubted whether she had enough moral ability and physical strength to raise her children. With the guidance of the principles of truth, compassion, and tolerance, she knew how to teach her children with correct values. Now her daughter is eight years old. They read Zhuan Falun together almost every day before bed time, talk about the meaning of life, and look inside to see what attachments they have.
"I am extremely grateful to Master Li Hongzhi for his immeasurable compassion for teaching me Falun Dafa. Dafa allowed me to see the light at the end of the tunnel and find hope." Catherine said, "Master, I sincerely thank you and wish you a happy new year. Falun Dafa is good!"
Catherine's mother and sister also started practicing Dafa one after another. Mother Johanne said, "Thank you Master for allowing me to get Dafa that guides me every day. Now, by understanding the meaning of life, I can live in harmony daily and keep improving."
Kathia has practiced Dafa for 20 years, and her husband Yvan has practiced for 16 years. She feels very lucky for this. "If there is no Falun Dafa and facing the confusion of the world, we are likely to be lost. In ordinary people's attachments and bad behaviors." Kathia said, "Falun Dafa puts us on the right path, understanding the true meaning of life and how to be a good person."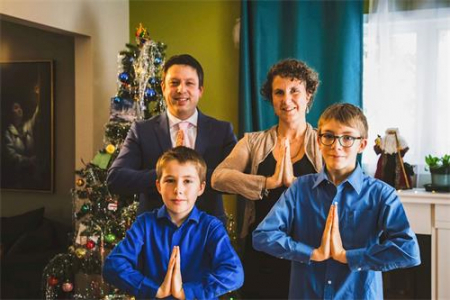 Kathia and Yvan met in 2005. In Quebec, many young people abandon traditional marriage and the notion of living together without getting married is popular. The principles taught by Dafa made them understand the true meaning of marriage. They got married in the summer of 2007 and now have two children, 12-year-old Jacob and 10-year-old Royk. The entire family believe in forbearance as a guide for daily life.
"Now that the morality of human society is declining, people no longer believe in God. Falun Dafa teaches us the importance of morality and spiritual improvement, which makes our family's life harmonious and treats each other kindly." Kathia said "Life is sometimes stressful or challenging. Falun Dafa allows us to have a stable mind, focus on necessary issues, get rid of attachments, and maintain a peaceful and more peaceful mind."
Kathia expressed her gratitude to Master on behalf of the whole family, "Master, thank you for your immeasurable compassion. We sincerely hope to continue to improve ourselves and follow Master on the road of cultivation."
Caroline and Gerome have a lively and lovely pair of children. This family of four studies the Fa together every day, and is often full of beautiful energy. Caroline said that the whole family is proud to be able to practice Falun Dafa.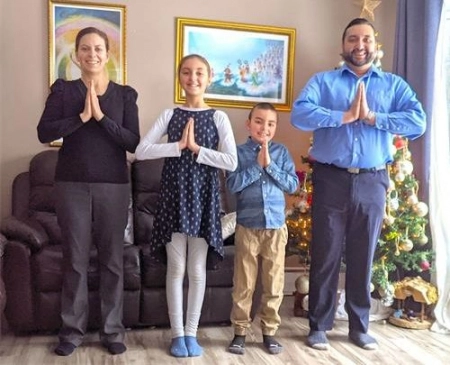 "Practicing in accordance with the principles of truthfulness, compassion and forbearance, we become better people. We first think of others when we encounter problems. Family members remain patient. When there is something to be done, we are a team, encouraging each other in failure and success." She sincerely encourages others to practice Dafa and bring this peace into life.
She expressed the gratitude of the whole family to Master, "We sincerely thank Master for letting us embark on the road of cultivation, guiding us in times of difficulty, and allowing us to break through the road of cultivation. I wish Master a happy new year, thank you Master!"
Sophie came to Quebec from France eight years ago. Once there, she came across Falun Dafa. When she first picked up the book Zhuan Falun and read it, she felt that her mind was clearer than ever, and she felt a lot of energy during the practice.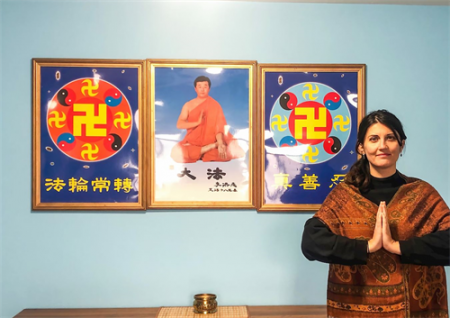 "When I was young, I thought there was something higher. I always had a special perception of things and people, but I didn't know why. Practicing Falun Dafa helped me find the answer, understand the connection between my life and the universe, and bring me an inner sense of security."
She said that studying Dafa makes people open-minded, looking at problems from different angles, having the courage to face trials, and comprehending deeper meaning through complex life. She said, "I thank Master Li Hongzhi from the bottom of my heart for illuminating my life with such a powerful light and making me a person of integrity and dignity. No words can describe the infinite gratitude in my heart. I hope to assimilate truthfulness, compassion and tolerance with firmer faith and continue to improve."
Chinese version: http://www.zhengjian.org/node/264439