PureInsight | December 29, 2020
[PureInsight.org] Falun Gong practitioners in Taiwan have held yearly large-scale character-forming events for 21 years since 2000. Huang Chunmei, vice executive of Taiwan Falun Dafa Association, said that this year about 5,400 Falun Gong practitioners from all over Taiwan completed the nine-character forming. The image reads "Falun Dafa is good. Truth-Compassion-Forbearance is good", which was spectacular. She reckons that people will be blessed if they sincerely recite the auspicious phrases.
Chiang Kai-shek Memorial Hall located in Taipei is a hotspot for tourists around the world. In recent years, Falun Gong practitioners have organized character-forming on Freedom Square. Every year, visitors make a comment, "It's amazing!" Huang Chunmei when interviewed said, "Taiwan has the second largest number of Falun Gong practitioners, compared with mainland China. In the past years, Falun Gong practitioners from around the world have joined in. This year due to coronavirus pandemic and three-week quarantine requirement, foreign practitioners cannot participate in the event, so Taiwanese practitioners carried on the whole task."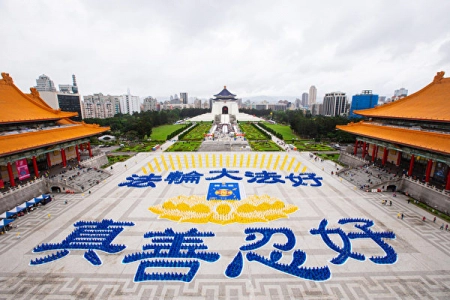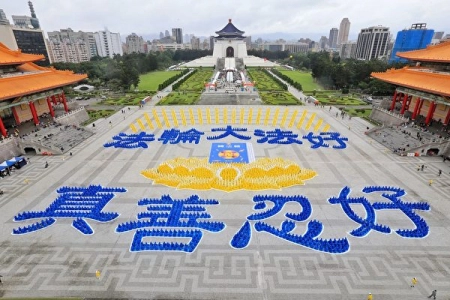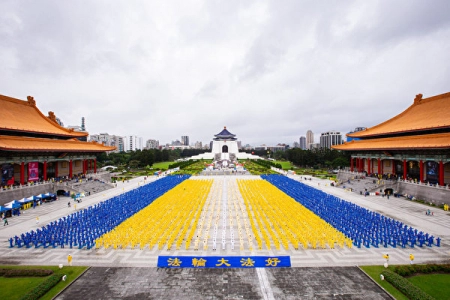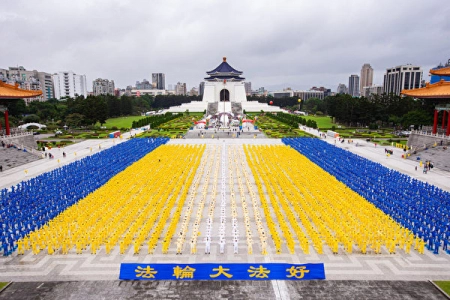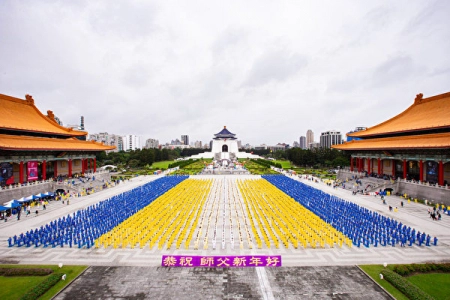 Huang Chunmei said that on January 4, 1995, the Chinese version of Falun Gong's main book "Zhuan Falun" was first published in Beijing. So far, Dafa has spread to 114 countries and areas, which has benefited 100 million people. The book above the lotus seat in this year's character-forming is the simplified Chinese version of "Zhuan Falun" published 25 years ago, whilst the traditional Chinese version of "Zhuan Falun" and the English version had also been displayed in the past events. She hopes that Taiwanese and people from mainland China can assimilate to the characteristics of the universe and be blessed.
She recalled that when she first obtained the treasured book "Zhuan Falun", she felt very grateful. It was such a big fortune that she could learn Dafa. The way she viewed the world had changed significantly. She had become a better person when practicing Zhen-Shan-Ren. In many circumstances, she is considerate of others. Dafa practitioners were found to be kind-hearted. They just don't care for personal gains.
Reserving Precious Images of Anti-persecution History, Regardless of Difficulty
Wu Qingxiang, a designer of the character-forming for the past 21 years, explained the implied meaning of the event. He said that it was not easy to arrange this activity due to the large number of practitioners. The lotus flower in the image looks holy, meaning that cultivators' practice Dafa in secular society, whilst they will be unaffected by the morally corrupt place. The 24 rays of light symbolize the spread of Dafa and the light of Buddha illuminating the world.
He added that it takes several months to go through all stages of character-forming. This includes the overall planning, drawing, revision and final layout. The stage of revision sounds challenging, as you need to take into account a range of opinions. This proves to be a xinxing test for practitioners involved in the activity. When we carry on this task, we practice cultivation. We try to achieve the common goal, look inside when conflicts arise and learn to respect and cooperate with our colleagues. That is to say, we have our xinxing upgraded in this event.
Dafa has spread for 27 years now. Mr Wu said that the persecution of Falun Gong has lasted for 21 years. Thanks to practitioners' ongoing clarifying the truth, many people have learned about the truth. There will be a wider spread of Dafa when the persecution ends. Later, people would intend to recall the history, while they can use the record of the large-scale character-forming as a good reference. They will consider these documents precious images.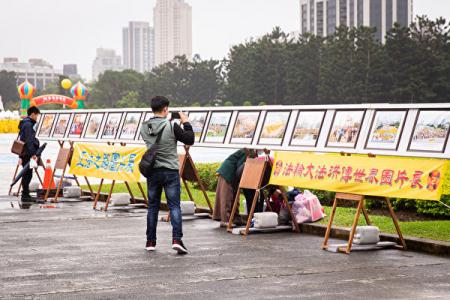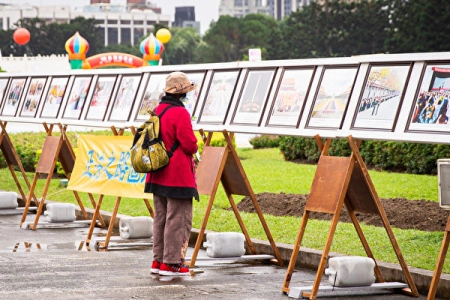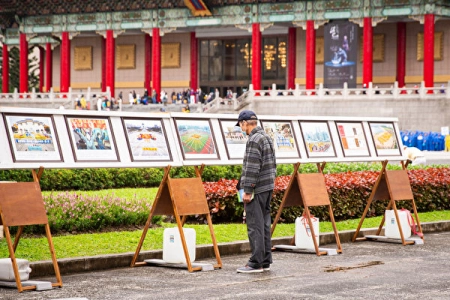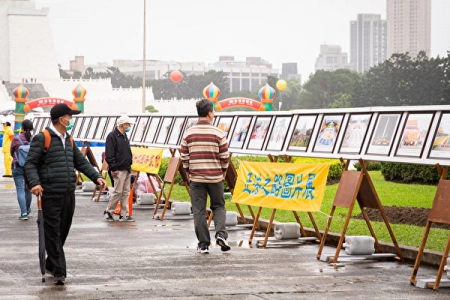 Sincerely Recite the Nine-character Phrase, Leading to Miracles around the World
Taiwan Falun Gong Human Rights Lawyers Group spokesperson Zhu Wanqi said that today in Taiwan, Falun Gong practitioners' character-forming activity has conveyed positive messages to predestined people, especially people from countries hit by coronavirus. Dafa cultivators live with people from all walks of life. Their mission is to spread the truth diligently, awaken conscience and help people survive the pandemic. Every cultivator is like this.
Zhu Wanqi said that especially this year, Falun Gong practitioners around the world conveyed the truth everywhere, regardless of their race and countries. Many coronavirus patients' symptoms were alleviated when they learned about the truth. Even some patients had recovered from the disease.
Her understanding is that the nine-character phrase is universally true. When people sincerely recite "Falun Dafa is good. Zhen-Shan-Ren is good", they are able to obtain positive energy and withstand external evil spectres. She often recites the auspicious phrase too and benefits a lot.
She said, "We also tried to convince those pro-Communists and pro-leftists to repent on time and stop letting the world continue to be a hotbed of the evil communist specters. What the world needs is not communism rooted in the cult of Satan. On the contrary, the world needs Truth-Compassion-Tolerance."
She added, "Everybody of us should be responsible for our habitat. In order to eliminate the evil force and to be invulnerable to plague, we should improve our moral character, which is fundamental. The only choice is to spread Falun Dafa is good and Zhen-Shan-Ren is good. By doing so, the world full of chaos can be changed and turn on a new look."
Tourists Were Amazed by the Character-forming Display
Mr Chen, a photographer, kept taking photos of Falun Gong practitioners' character-forming. He said, "These photos seem to give out beautiful energy. The scene looks magnificent. We can tell Falun Gong practitioners spread Zhen-Shan-Ren actively."
He recalled that when he took photos at the Hsinchu Wind Music Festival and the Keelung Zhongyuan Festival, he had seen Falun Gong practitioners giving performances. He said, "You can see practitioners at tourist attractions around Taiwan. Despite the crackdown in mainland China, they keep speaking out for their faith and introducing Falun Gong to the public in Taiwan, which is a hard work."
He added, "Falun Gong practitioners keep working to achieve their goal. Their perseverance will lead them to success. In spite of the persecution, they gained popularity. I hope that practitioners continue to clarify the truth and attain more success in the near future."
Ms Huang, 70-year-old, said, "This is the first time that I have seen a large character-forming event. The volunteers told me the truth. Falun Gong practitioners made me feel warm."
She saw that many children followed their parents to join in the activity. She said, "When growing up, these children can form a community practicing compassion. As a result, the way they think will not be biased."
She is totally against the persecution. She said, "CCP is wrong. In sharp contrast, freedom and democracy are respected in Taiwan. If most Taiwanese people believe in Falun Dafa, Taiwan will embrace a brighter future. Falun Gong practitioners are  tolerant. When scolded, they don't yell. Only when you reach such a high realm, can you stay rational in the face of a challenge."
Sankalp Verma, an Indian tourist, said, "The cultivators who have benefited themselves and society were persecuted by Communist regime. This sounds senseless. I hope that those who were illegally imprisoned can be released soon. Practicing Falun Dafa is good, particularly good in such a morally corrupt society."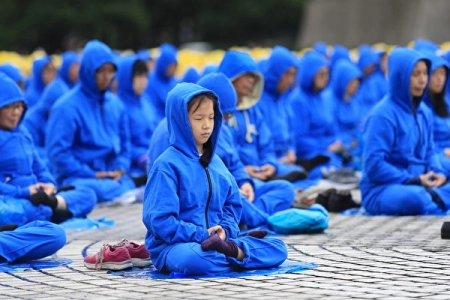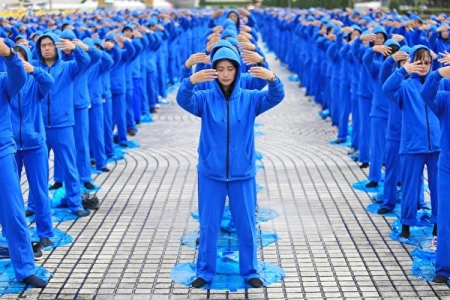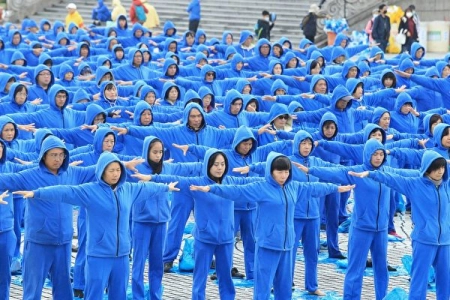 Falun Gong Practitioners Feel Thankful for the Opportunity to Form Characters
Chen Junsheng, who is from Yun Lin County, joins in character-forming nearly annually. He started to practice Dafa with his father when he was a middle school student. He used to suffer from asthma, which was cured without taking medicine after he took up the practice. Also, he is not afraid of winter. More importantly, he has improved his xinxing. Then he had a stronger academic record in schooling. Nevertheless, after he studied outside Yun Lin, he lost the local cultivation environment and slacked off.
Upon graduation, he resumed his cultivation. Once, a fellow practitioner went through a xinxing test caused by sickness karma. He reckoned that he would not come across this type of test. However  rash appeared was all over his body the following day. Then he would like to put on a mask in the evening to see if he  would get better. He felt shocked to notice that his face became swollen when he got up in the morning. When he shared his experience with fellow practitioners, he searched inside himself. As a result, his health condition went uphill shortly. He got enlightened to some extent and requested himself to practice cultivation more diligently.
In regards to coronavirus pandemic, he said, "Taiwan was doing a wonderful job stopping the spread of coronavirus. Throughout the global pandemic, only Taiwan can hold large-scale character-forming event. Taiwanese people believe being good will bring goodness and being evil will bring bad things and we find CCP disgusting. That is why Taiwan was not severely hit by the plague."
Chen Shimin, who accompanied his sister in this event, was a policeman. He sometimes felt upset in his work. His sister introduced Zhuan Falun to him. After reading the book for a few times, he could not help but to keep reading. He said that Zhuan Falun helped him become easy-going. His overall physical and mental wellbeing has improved. In most situations, he can behave correctly because he believes in Zhen-Shan-Ren. He feels happy with his gains in cultivation.
He felt that Taiwanese people lead a happy life. They can have gatherings as usual. It was such a good fortune to have a large-scale character-forming taken place in Taiwan. He condemned CCP's persecution of Falun Gong. He said, "The Chinese Communist Regime tramples on human rights." He admired mainland China Falun Gong practitioners' perseverance in cultivation.
Wu Jiajun started to practice Dafa in his fourth university year. It was not until his health went downhill and he could not endure pressures from his school work that he began to take cultivation seriously. When encountering downs in life and reading Zhuan Falun, he feels happier. After doing the meditation exercises, his  physical health improves.
Wu Jiajun said, "It was inevitable to come across conflicts in a workplace. I was doing business. When my supervisor presented something tricky, I did my best to minimize the conflicts. It was not good at all to compete with my supervisor. Rather than arguing with him, I took this opportunity to upgrade my xinxing. Then the atmosphere in my workplace did not sound that unpleasant."
With respect to marriage, he reckons that the most important is to trust each other. He said, "Our personality differs from one another. If you always request your spouse to meet your needs, disputes will arise. For instance, my wife looks after my children. At the beginning stage, I took this for granted. Once, she had to attend an activity and requested me to be with children. During that day, I did not feel relaxed at all looking after my children, so I became appreciative the responsibility she had in family. Therefore, on finishing my daily work, I go back home on time to help her with household jobs."
In regards to educating children, he said that he educates his children with the guidance of Dafa. He taught his children, "It was important not to bully your friends, because this will cause karma and you will feel uncomfortable. When your friends snatch your toys, you can let them borrow your toys for a while. Then they will return the toys to you."
After he took up the practice of Falun Dafa, he has benefited a lot both physically and mentally. He really feels grateful to Master.
Chinese version: http://www.zhengjian.org/node/263758